The apartment sector enjoys solid demand in the face of moderate increases in supply of new units. This has kept vacancy rates extremely low—4.2% for two quarters running, which indicates little (if any) excess supply (the typical tenure of a renter is two years. A turnover time of one month translates into a unit being empty 1 out of 25 months—a 4% vacancy rate). Rent growth perked up again in Q2, to a 4.7% annual rate.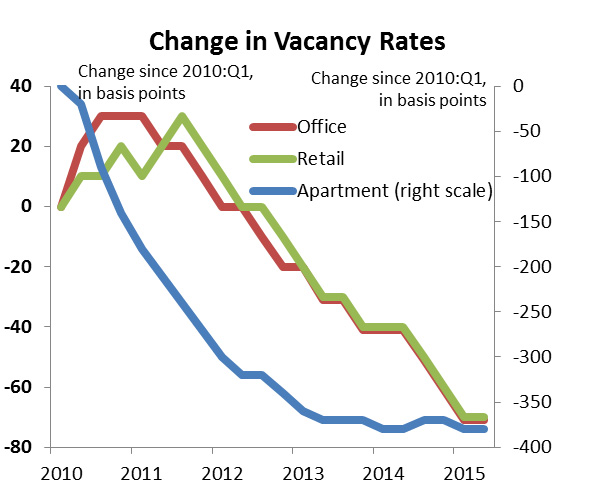 The office sector showed little further improvement in Q2, with vacancy rates stable and a slight slowing in rent growth. Absorption has been rising as the job market firms, but recent gains have been matched by new supply. CBD office markets have recovered better than suburban, although the latter are showing signs of improvement as well.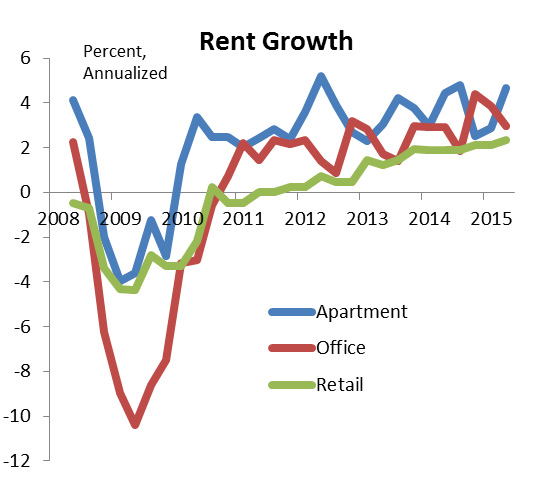 Retail sector vacancy rates were stable in Q2, and rent growth edged up only slightly. The main positive for the retail sector is an extremely low level of new construction, as absorption remains sluggish and many markets still have excess available space. 
Labor markets show renewed vigor. Job growth picked up after a slow winter, with nonfarm payroll employment averaging a monthly gain of 235,000 in the second quarter. Market fundamentals point towards further improvements ahead. For example, job openings have risen steadily, and since February have exceeded monthly hires for the first time in the 15 year history of the JOLTS (Job Openings and Labor Turnover Survey) Survey.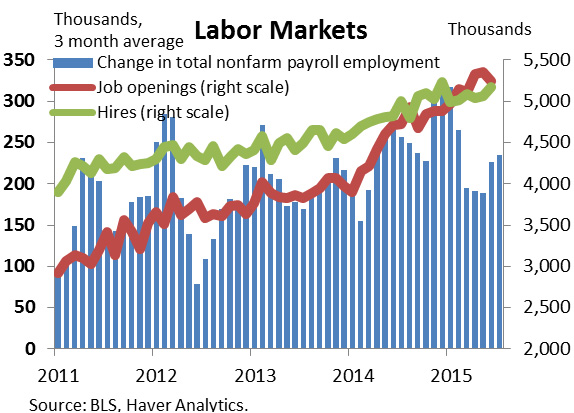 Household formation continues to recover, with rental markets still absorbing all of the net flows. Demand for apartment rentals has been, not surprisingly, strongly influenced by job trends. Formation of new rental households continues at a pace near 2 million per year, which is more than enough to absorb increases to date in supply. Moreover, there is a "pent-up demand" of several million Millennials and older individuals, who may be ready to sign a lease if they get a job, or a raise. This demand imbalance is likely to keep vacancy rates low and rent growth solid well into the future.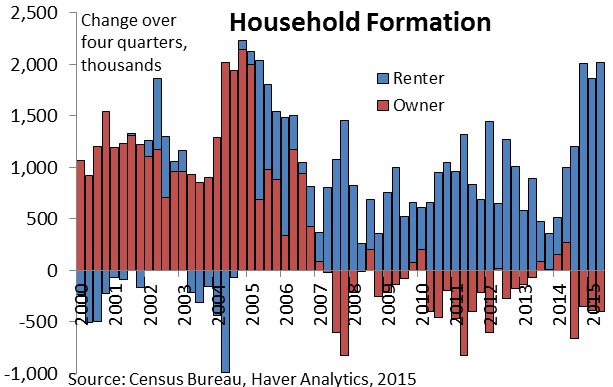 Construction is ramping up. Real construction (that is, adjusted for inflation) of all property types has been on a steady uptrend since the crisis, and indeed has nearly doubled since early 2011. Increases to date, however, only reflect the steepness of the decline during the recession, and activity is barely back to the levels in 1993. While overbuilding is always a potential risk in commercial real estate, those worries appear to be at least a few years away.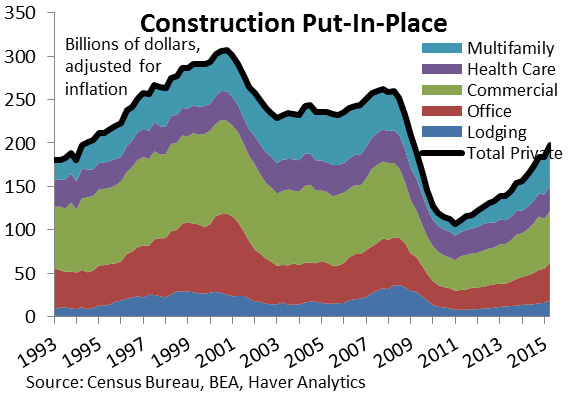 Get Nareit Market Commentary blog posts delivered straight to your inbox.
Subscribe