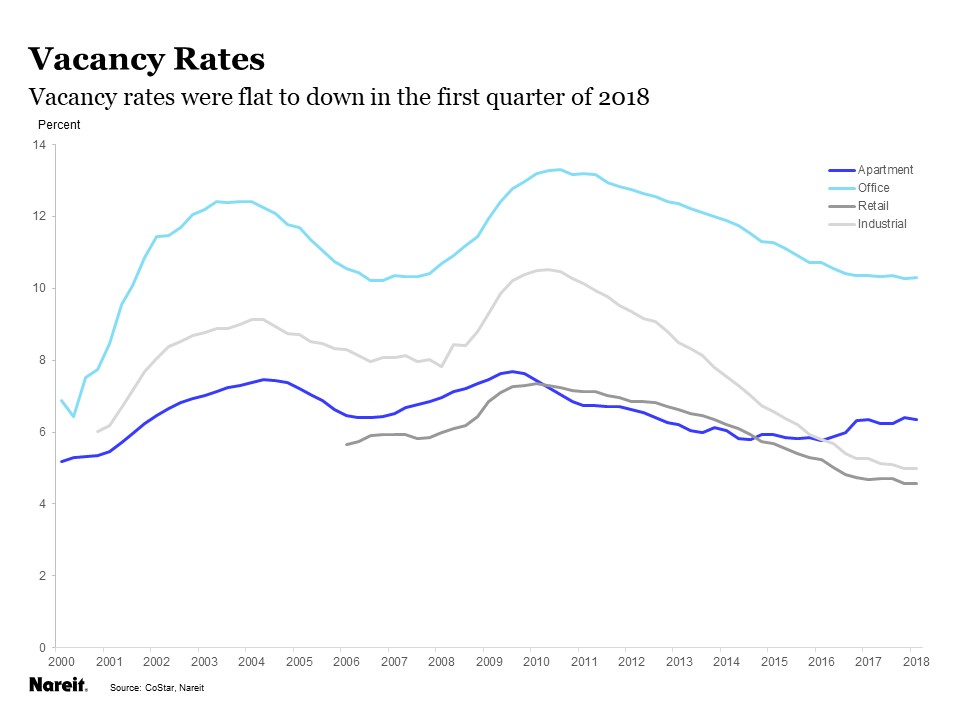 Vacancy rates remained low in the first quarter of 2018 for the major commercial property sectors. Vacancy rates were unchanged among national office, retail and industrial markets, and ticked down 10 basis points in apartment markets, according to recent data from CoStar.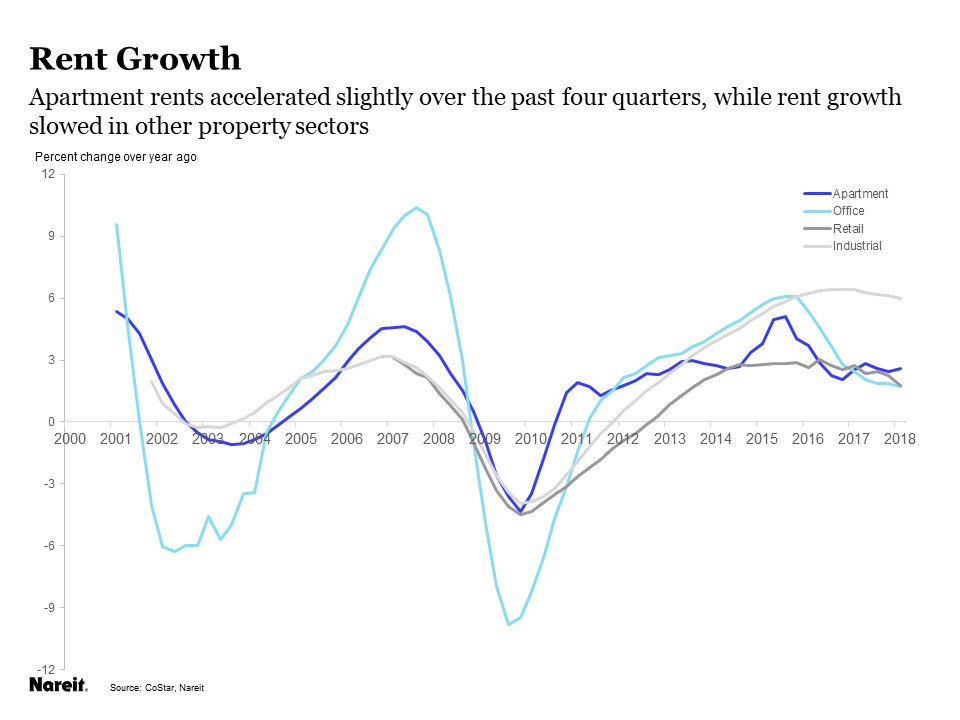 Market conditions cooled a bit, however, as rent growth decelerated slightly for most property sectors. Industrial properties are outpacing the other sectors with rent growth of 6.0 percent over the past year, only slightly off the pace in 2016 and 2017. Rent growth of office and retail properties decelerated as well, to 1.7 percent and 1.8 percent, respectively. Apartments were the outlier again, with a 20 basis point pickup in rent growth, to 2.6 percent.
Demand continues to grow for all major property sectors. Net absorption in the industrial sector totaled 248 million square feet over the past four quarters, or 1.6 percent of existing stock, a rapid pace of growth. After ramping up the prior three years, however, new construction has nearly caught up to demand. Expansion of logistics facilities for shipment of goods purchased on the Internet is expected to continue driving demand for industrial space.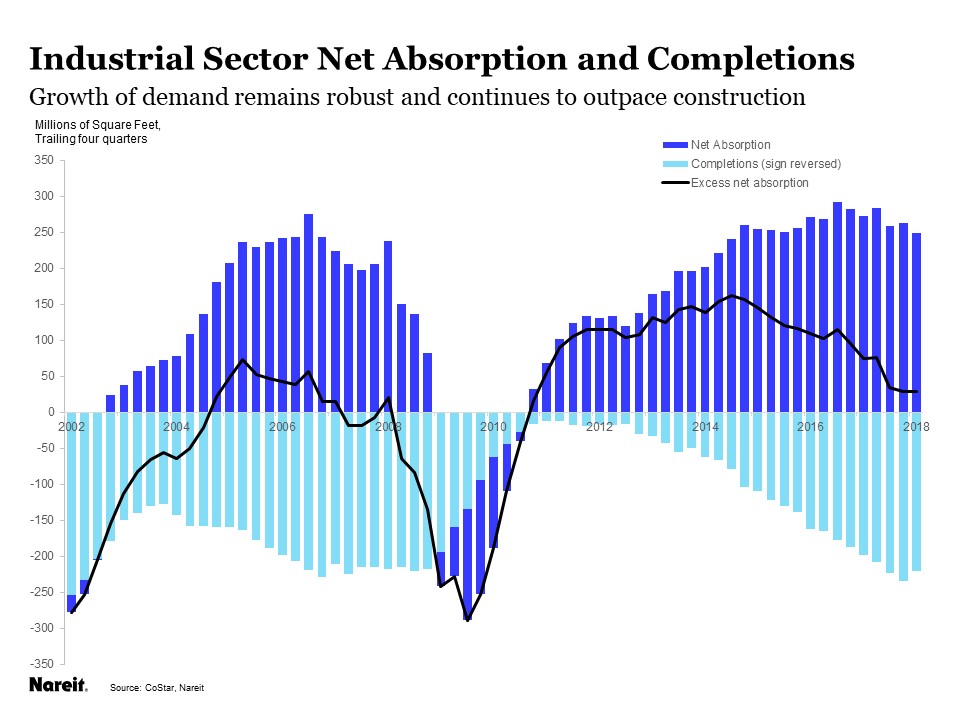 New supply of apartments has eased a bit, with 290,000 units completed over the past four quarters, compared to 330,000 completions one year earlier (light blue bars, sign reversed, in chart). Net absorption remains high, indicating there is still solid demand for apartments. Rents are being held in check, however, by affordability problems, as a record number of households are paying 30 percent or more of their income on rents.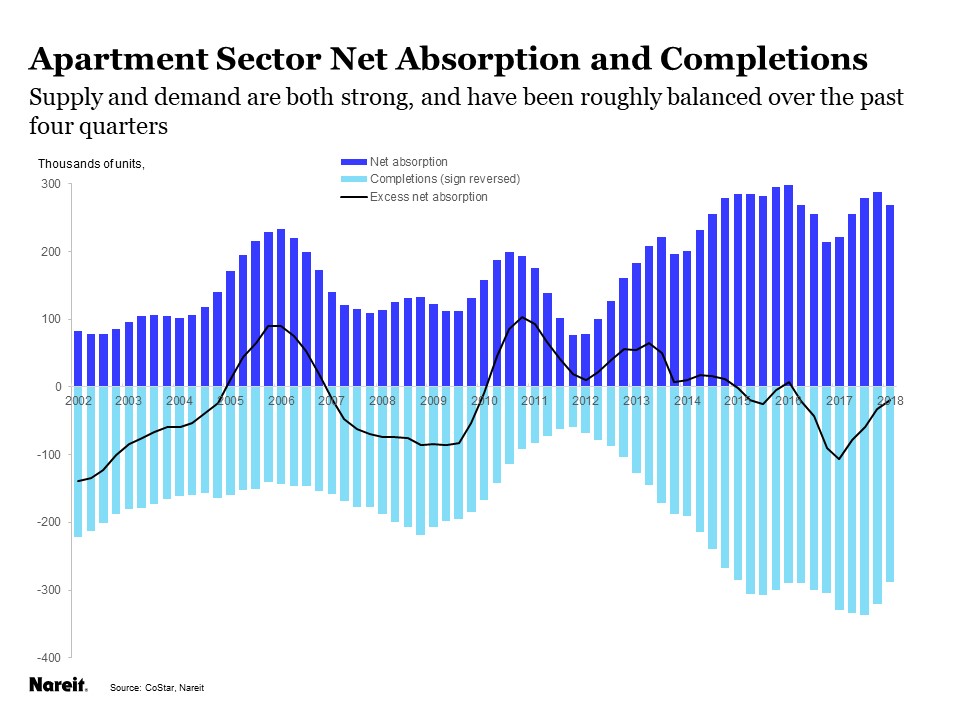 The office sector has been relatively cool the past few years, despite rising office employment. Net absorption slowed to 60.7 million square feet over the past four quarters, compared to 71.6 million square feet one year earlier. Construction remains in check, however, and supply and demand were essentially balanced in the first quarter.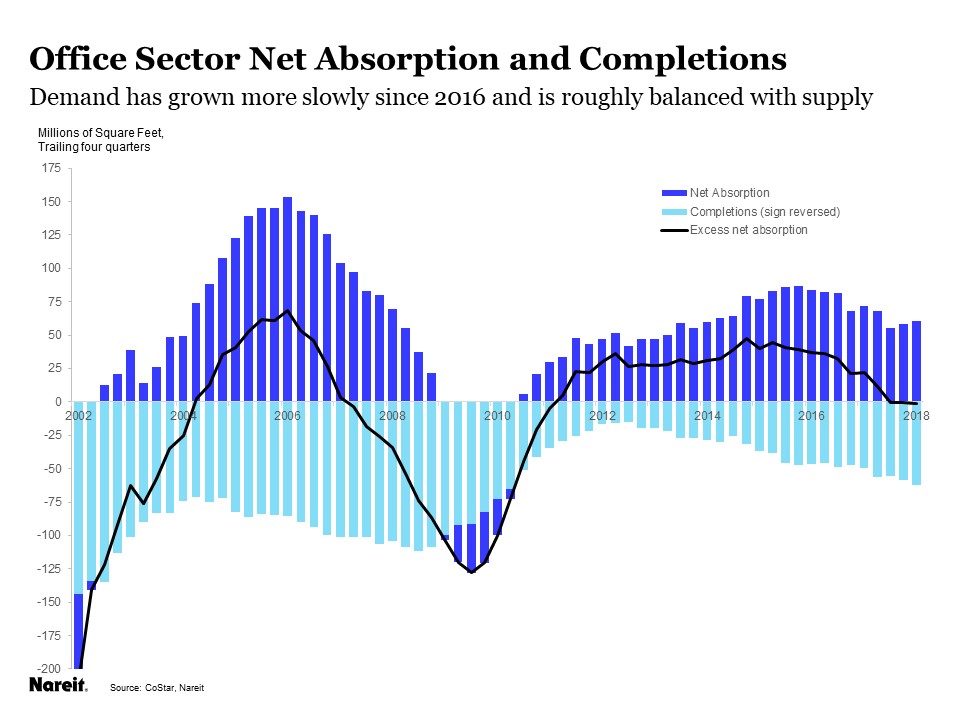 Store closures and retail bankruptcies caused net demand for retail space to weaken further in the first quarter, slipping to 13.4 million square feet, which is half the average pace over the prior two years. Over the past four quarters, net absorption totaled 78.7 million square feet, down nearly 40 percent from the comparable period one year earlier. Recent earnings calls with management teams of the Mall REITs indicate that this first-quarter impact had been expected, and most REITs are making progress re-leasing the vacant space at a good spread to prior lease rates. As a result, the impact on REIT earnings and occupancy rates is expected to be temporary. Furthermore, construction of retail space for the overall market (i.e. not just REITs) has been low, and completions were in line with the growth of demand.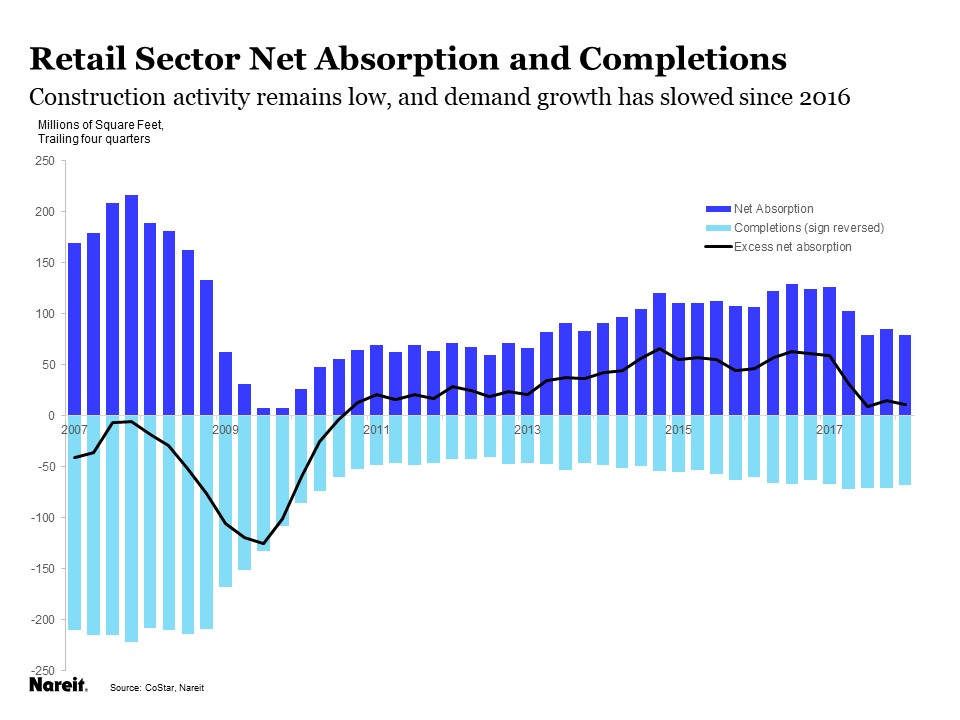 Get Nareit Market Commentary blog posts delivered straight to your inbox.
Subscribe