Retail sales jumped 1.9% in September, beating expectations by a wide margin, as consumer spending has recovered ground lost early in the pandemic and marches steadily higher. Despite worries about the job market and risks to the economic recovery, consumers are on track to a robust holiday sales season, including gains in bricks & mortar sales that will likely benefit retail REITs.
Retail sales have topped pre-pandemic levels and in September were 8.2% above one year ago. Sales began to recover in May as stores and malls started reopening, and the pace has accelerated further in recent months. Consumers are playing catch-up, though, as total sales in the first nine months of this year were 2.0% below sales in 2019, suggesting there is scope for further increases in the months ahead.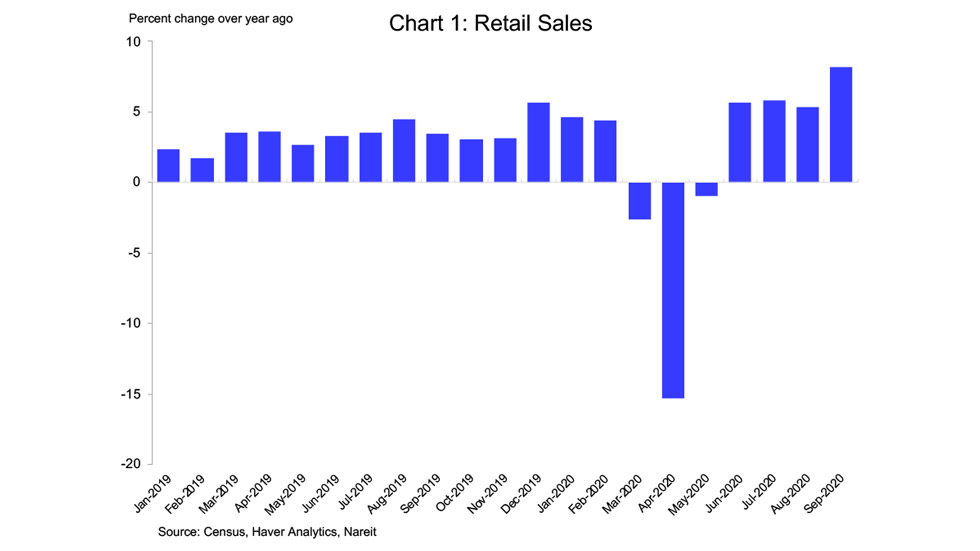 The strength of the recovery in retail sales suggests that holiday sales may be as much as 4% to 5% higher than last year. Sales growth of this magnitude could match the 4.4% increase during the holiday season last year and would exceed the 3.4% average holiday sales growth over the past five years. There are many risks to this holiday outlook, of course, especially with new cases of COVID-19 rising in more than 40 states. But with sales currently running more than 8% above year-ago, these gains appear within reach.
The pandemic has reshaped the competitive environment for e-commerce and bricks & mortar sales. Online sales soared in the spring, with e-commerce sales jumping in May to 35.1% higher than a year earlier as shoppers avoided physical locations (chart 2, light blue line). The e-commerce share of retail sales spiked to 28%, well above the long-term trend of a gradually rising market share (chart 3). The e-commerce share retreated to 24% in September but will likely remain above the prior trend for the foreseeable future.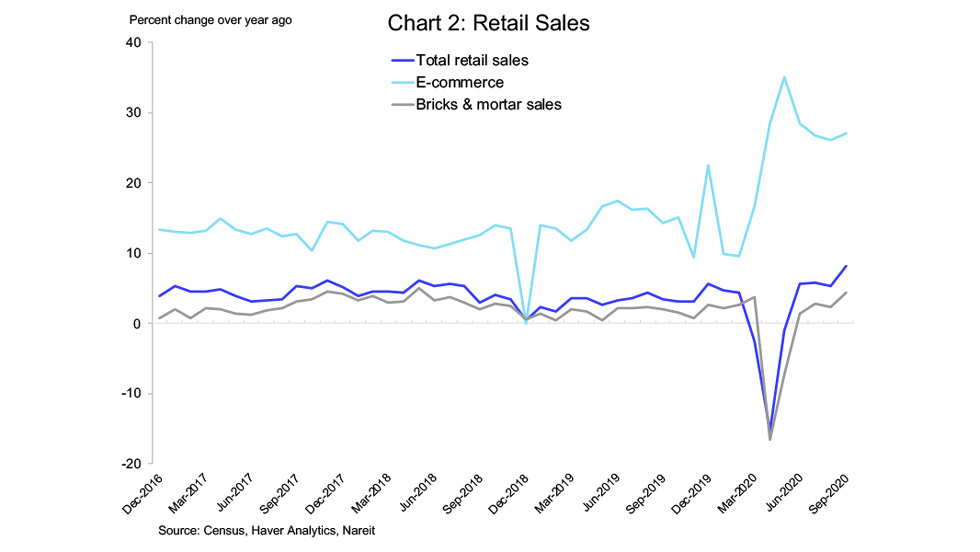 Bricks & mortar sales plunged in the spring, but have recovered with sales growth since May. Despite the loss of market share to e-commerce, bricks & mortar sales have continued to increase over most of the past decade, albeit more slowly than e-commerce and total sales. Indeed, bricks & mortar sales have been above year-ago levels since June (chart 2, grey line). This upward trend in bricks & mortar sales contributed to the low vacancy rates at retail REITs in the period before the pandemic, and will bolster their recovery in the months and year ahead.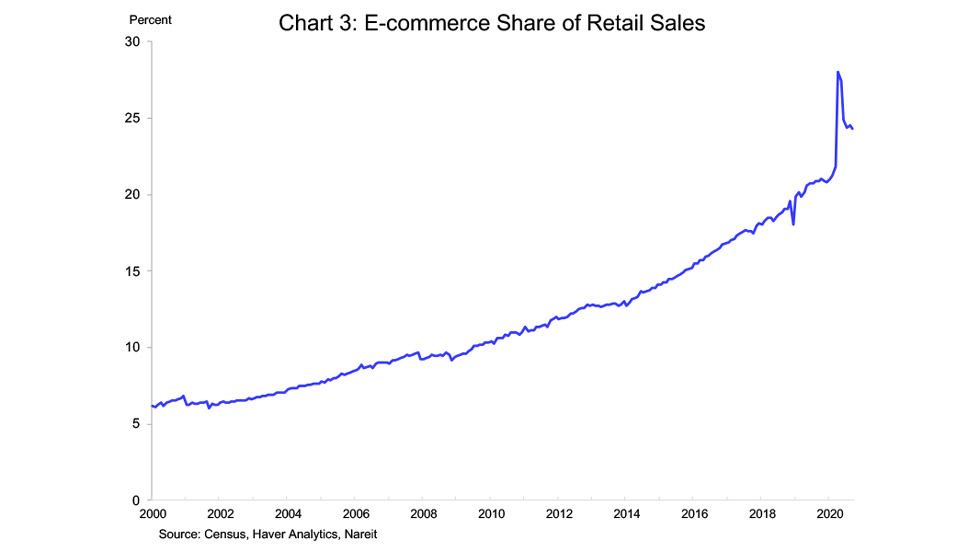 Get Nareit Market Commentary blog posts delivered straight to your inbox.
Subscribe