Equity REITs significantly expanded their holdings of income producing real estate in recent years, buying a total of $260 billion of commercial property between 2011 and 2015. Acquisition activity was especially strong in several sectors, including health care REITs, retail, diversified, residential and office; together, REITs in these property sectors accounted for 80% of total net purchases over this period.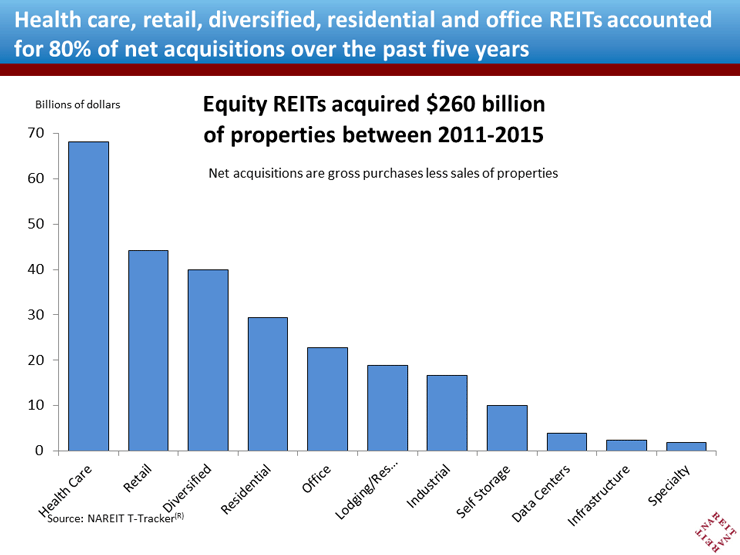 There is considerable portfolio repositioning that is not visible in these figures on net acquisitions, which are the total gross purchases less sales of properties. Many REITs have been active not only buying properties, but also selling off others due to changing market conditions or shifts in strategic plan. This can be seen more clearly in aggregate figures on gross purchase and sales for all equity REITs, which show strong gross purchases as well as a significant amount of sales over the past five years (see chart below, gross acquisitions in the blue bars, sales in the red bars, net acquisitions in the black line).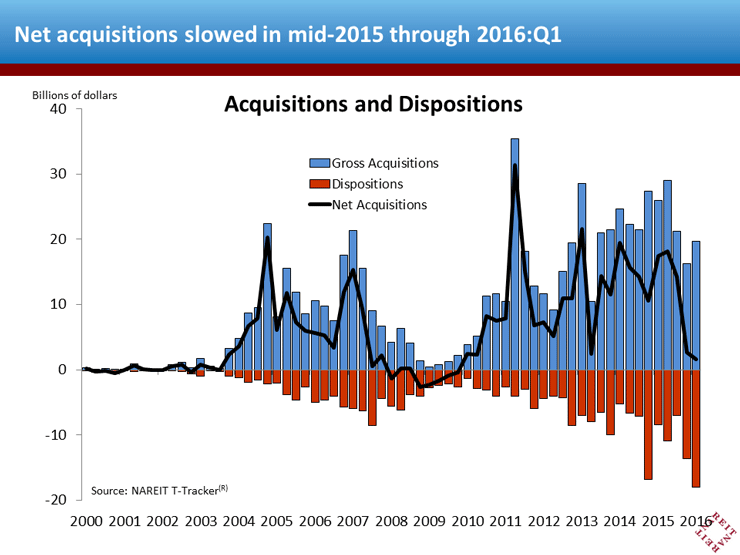 Acquisition activity slowed sharply in mid-2015 as share price discounts to NAV raised the cost of capital for many REITs. Net acquisitions by all equity REITs totaled $16.9 billion in the second half of last year, down more than 50% from the $35.6 billion of net purchases in the first half of the year. There is a common misperception that REITs have greatly increased their sales of properties. Dispositions, however, rose only 7% in the second half of the year compared to the first half, from $19.4 billion to $20.6 billion. The main reason for the fall in net acquisitions, rather, was a 32% drop in gross purchases, from $55.0 billion to $37.5 billion.
Net property purchases remained subdued in early 2016, with total gross acquisitions less total sales of $1.7 billion. Several sectors were net sellers of properties in the first quarter, including apartment REITs, office, retail and diversified REITs. Other sectors, however, were net buyers. The single family rental (SFR) sector posted a $6 billion gain, primarily due to the acquisition by a REIT of another SFR company that was not included in the FTSE-NAREIT All Equity REITs index (excluding this transaction, there were $4.4 billion of net sales for all other REITs in the index).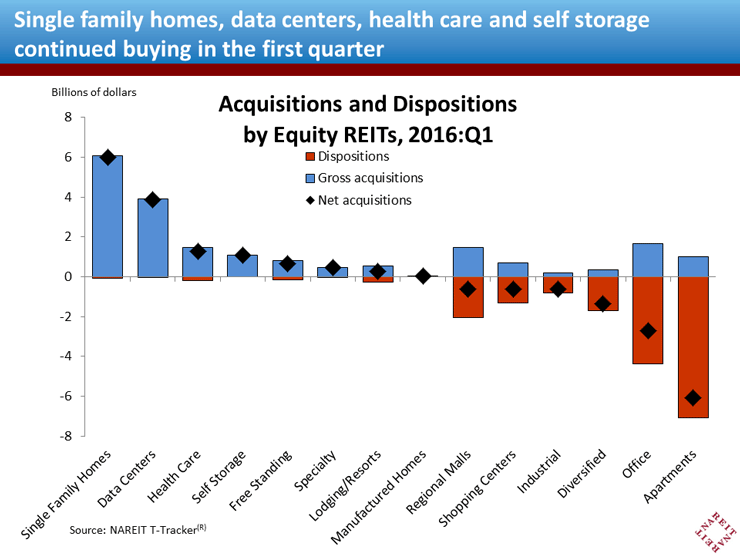 Several property sectors that enjoy solid fundamentals amidst a long-term secular rise in their business were net acquirers in the first quarter. Data centers, which house the servers and other equipment that service the "cloud" for cell phones and Internet activity, made net acquisitions totaling nearly $4 billion. The health care sector, where REITs have been participating in an industry consolidation and which also benefits from rising demand for health care services, had net acquisitions of $1.3 billion. And self storage, facing both growing demand and consolidation of a fragmented industry, had net acquisitions of $1.1 billion.
Get Nareit Market Commentary blog posts delivered straight to your inbox.
Subscribe