Total nonfarm employment rose 211,000 in November, following an upward-revised increase of 298,000 in October, showing a strengthening economy heading towards the end of the year. Labor market slack is much diminished from two or three years ago, with the unemployment rate unchanged at 5%. The stronger job market is beginning to translate into higher incomes, as hourly earnings are on an upward trend, rising 2.3% over the past 12 months.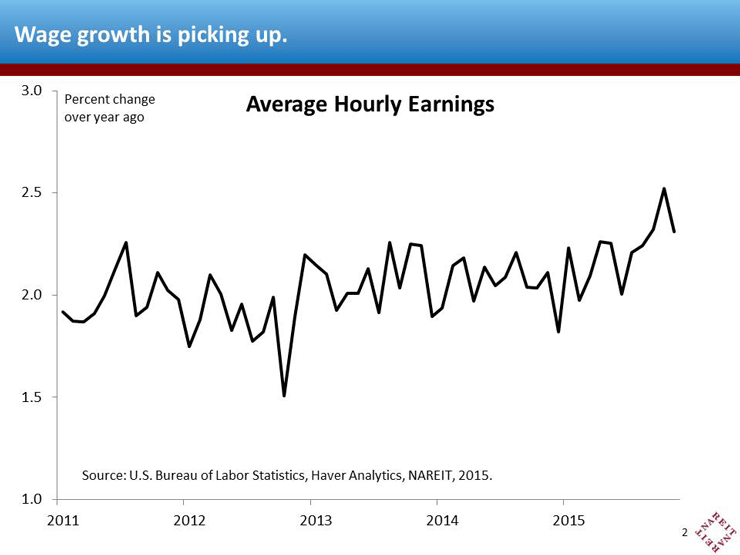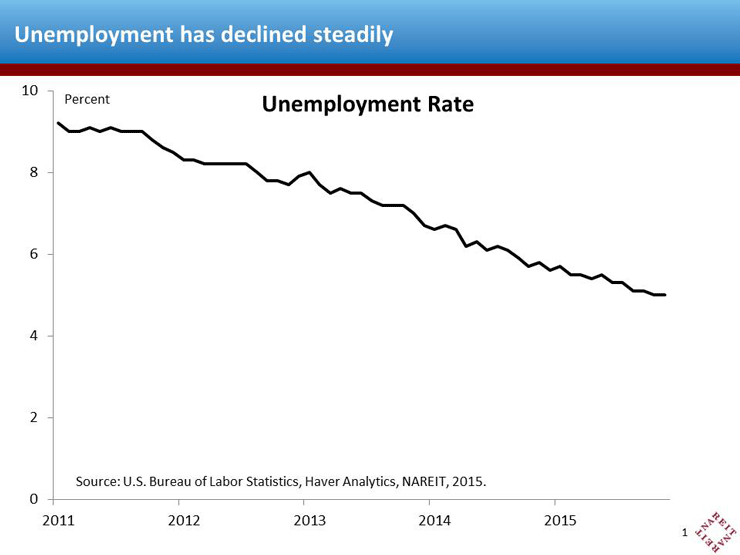 These headline employment figures indicate that the fundamentals for the overall economy are improving. We can dissect the report, however, for more insights about specific REIT property sectors:
Most sectors related to REITs show sustained job growth. Overall job growth decelerated over the past six months, with a 1.8% annualized rate of employment over the six months through November, a half-percentage point slower than the rate in the first half of the year. Two sectors, however, account for nearly all of the slowdown: oil and gas exploration and extraction, and manufacturing (chart below; oil and gas not shown separately). Most sectors related to REITs, however, have been unaffected by this slowing;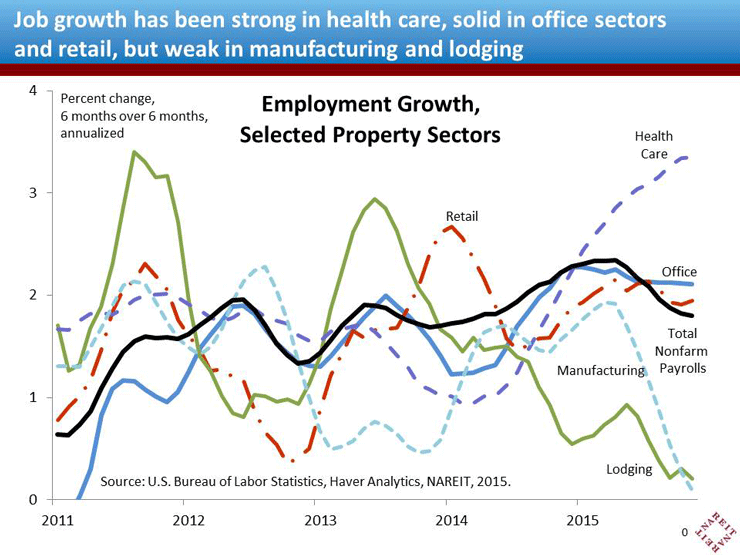 Health care employment is outpacing all other sectors. Health care employment is growing at a 3.4% annual rate, as the aging of the Baby Boom and other long-term structural forces drive demand for health care;
Office employment has been growing at a 2% or faster annual rate since mid-2014. The growth of office employment had lagged from 2010 through mid-2014, but has shown sustained above-trend increases since then (blue line in chart 3; the office category includes employment in the financial sector, professional and business services, information, and government excluding education and U.S. Postal Service);
Employment growth in retail trade has slowed a bit. Retail employment increased at a 1.9% annual rate over the past six months, down from 2.7% in the second half of 2013. Still, increases in retail employment have been solid in recent months, which bode well for retailers' expectations for holiday season sales, and for demand for bricks & mortar retail floor space;
Lodging is lagging. Employment in the lodging/accommodations sector has slowed significantly, to less than a quarter percent (annual rate) over the past six months, from a nearly 3% growth rate in mid-2013. This parallels the recent weakness in the REIT lodging sector;
Manufacturing employment has been little changed over the past half year. Two factors are weighing on the manufacturing sector: weak global growth, including Europe and China, and a stronger dollar. Both of these effects have hurt exports, causing manufacturers to trim production. Slower growth of shipments and inventories, in turn, clouds the outlook for the industrial REIT sector. 
This jobs report reinforces expectations that the Fed will raise interest rates in December. Uncertainty about the future path of interest rates has caused jitters across the financial markets, and the share prices of REITs have not been immune. REIT valuations, however, have typically increased during periods of rising interest rates, as the higher rates are often in response to stronger economic activity that bolsters occupancy, rent growth and REIT earnings.
Get Nareit Market Commentary blog posts delivered straight to your inbox.
Subscribe