The April release of state unemployment rates from the Bureau of Labor Statistics provides additional evidence that, in most of the country, labor markets are healthy and continue to strengthen.
An exception to this improving trend is in oil producing states, where unemployment rates have been rising.  Generally, however, the level of unemployment in those states remains modest.  NAREIT tracks labor market conditions because they are a timely indicator of the demand component of REIT and real estate fundamentals.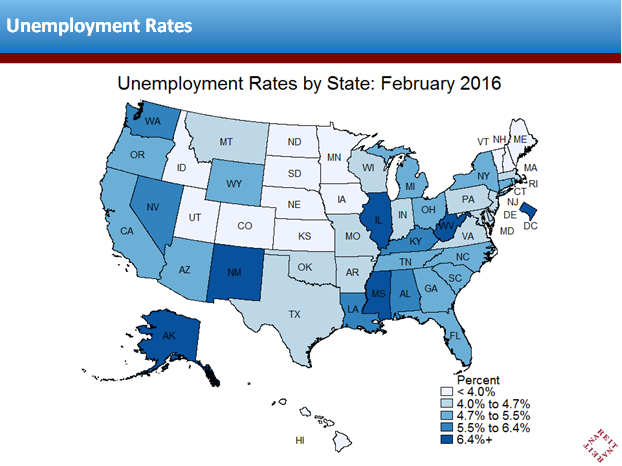 The map shows the distribution of unemployment rates across states.  The states with the highest rates include Alaska at 6.6%; Mississippi, DC and West Virginia at 6.5%; and Illinois and New Mexico at 6.4%.  Unemployment rates continue to be lowest in the upper Midwest states.  Many of the states with significant amounts of investment grade commercial real estate including New York, California, Texas Florida, Virginia and Massachusetts (which combined account for roughly half of REIT owned properties by value[1]) have unemployment rates in line with the national average.    For example, the New York unemployment rate is 4.8%, California's rate is 5.5%, Texas' rate is 4.4%, Florida's rate is 4.9%, Virginia's rate is 4.1% and Massachusetts' rate is 4.5%.
Compared with a year ago, unemployment rates declined in 38 states, rose in 10 states, and were unchanged in 3 states.  A number of the states experiencing higher unemployment rates compared with last year are in oil producing regions.  These states include Wyoming, Nebraska, North Dakota, Alaska, Montana and Oklahoma.  The Wyoming unemployment rate increased by 1.2 percentage points.   
Compared with January, unemployment rates declined in 22 states, increased in 8 states, and were unchanged in 21 states.
---
[1] Excluding single family homes, cell towers and billboards.
Get Nareit Market Commentary blog posts delivered straight to your inbox.
Subscribe