The economic fundamentals for commercial real estate markets are sound. Gross domestic product (GDP) surpassed expectations in the first quarter, and strong job growth in March and April provide a favorable backdrop for demand for leased commercial space. The economic momentum through the first quarter is even more notable in light of widespread warnings last winter that recession risks were high. The commercial real estate market, though, had a soft start in 2019.
A slowdown in demand for real estate would be troubling were it to occur in an environment where the macro fundamentals were weakening as well. The current situation, though, with strong GDP growth and employment gains, suggests that the first quarter was a temporary lull in real estate, with some rebound likely in the coming months. (See the Nareit Commercial Property Update for more detailed discussion of CRE markets and economic fundamentals in Q1.)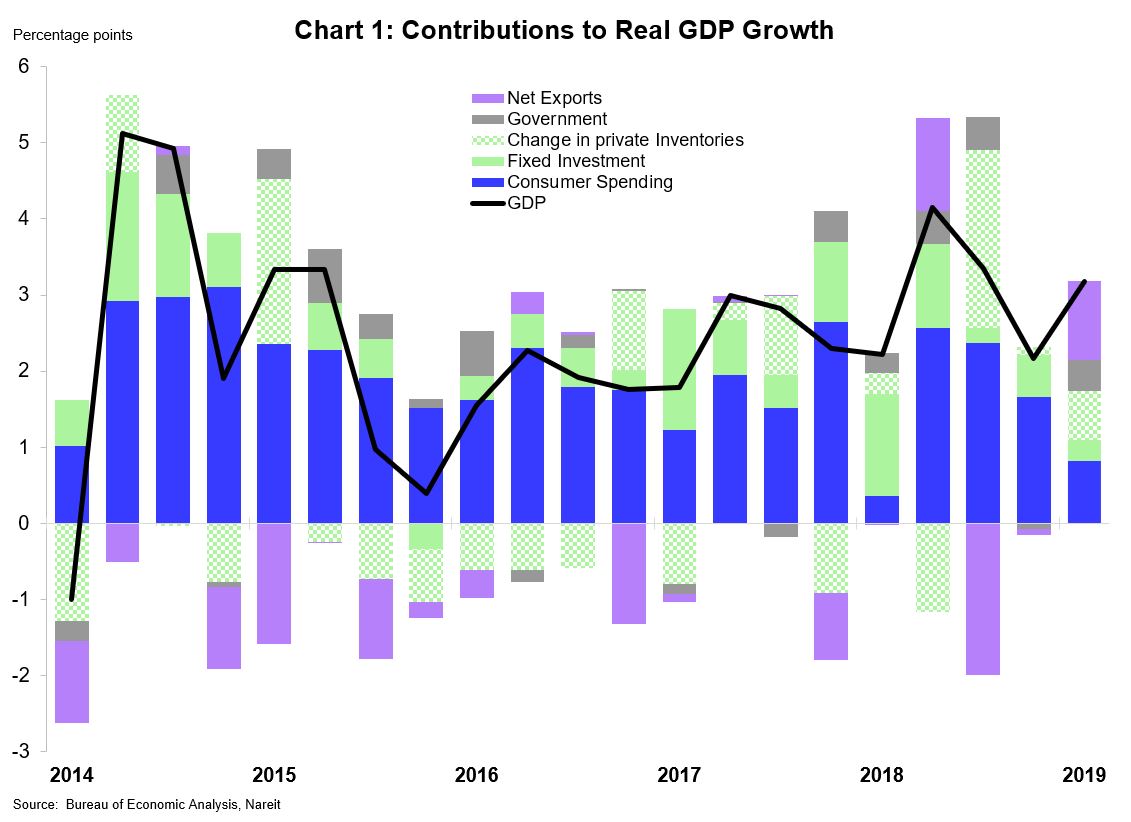 GDP rose at a robust 3.2 percent annual rate in the first quarter of 2019. Gains in net exports and private inventories boosted overall growth, while consumer spending lagged previous quarters, only contributing 0.8 percent.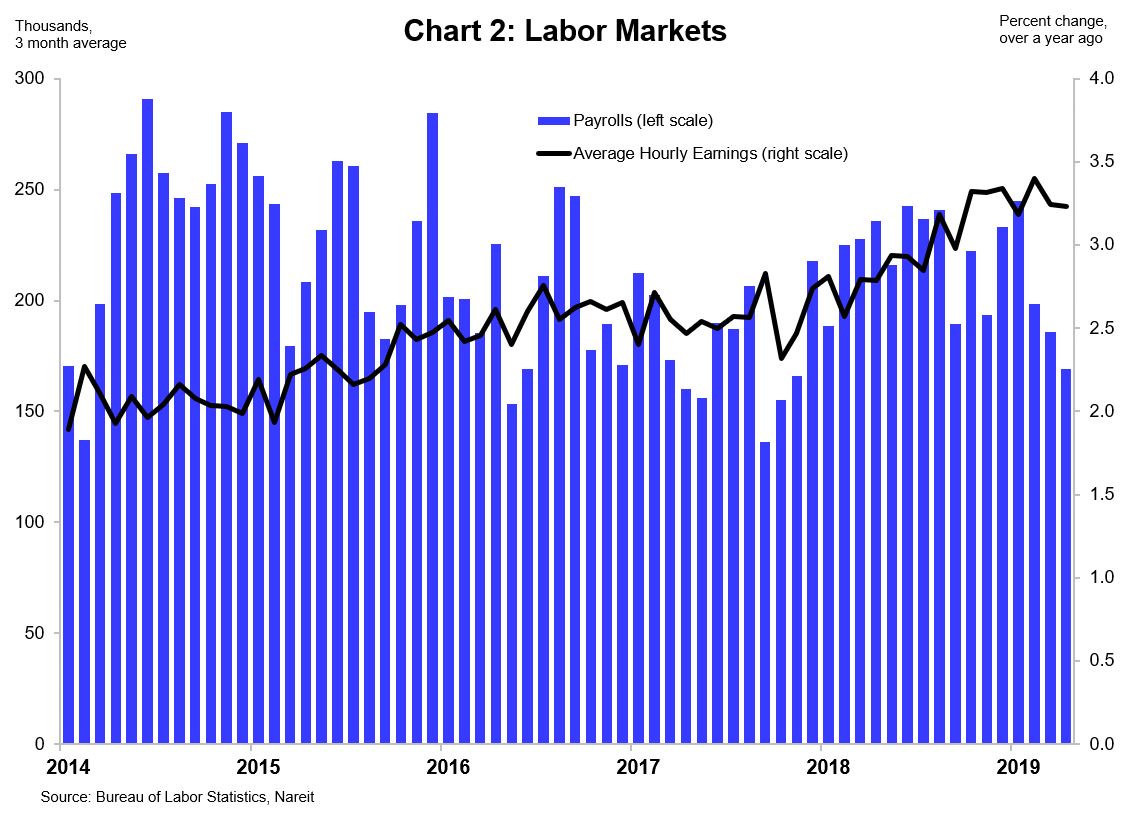 Nonfarm payrolls rose above-trend 263,000 in April. The large increase was at least in part a rebound from low readings in prior months, as a three month average of job gains has trended down in 2019. The unemployment rate fell to 3.6 percent, the lowest since 1969. Strong labor markets have supported wage growth, and average hourly earnings increased by 3.2 percent over the prior 12 months, in line with growth in March.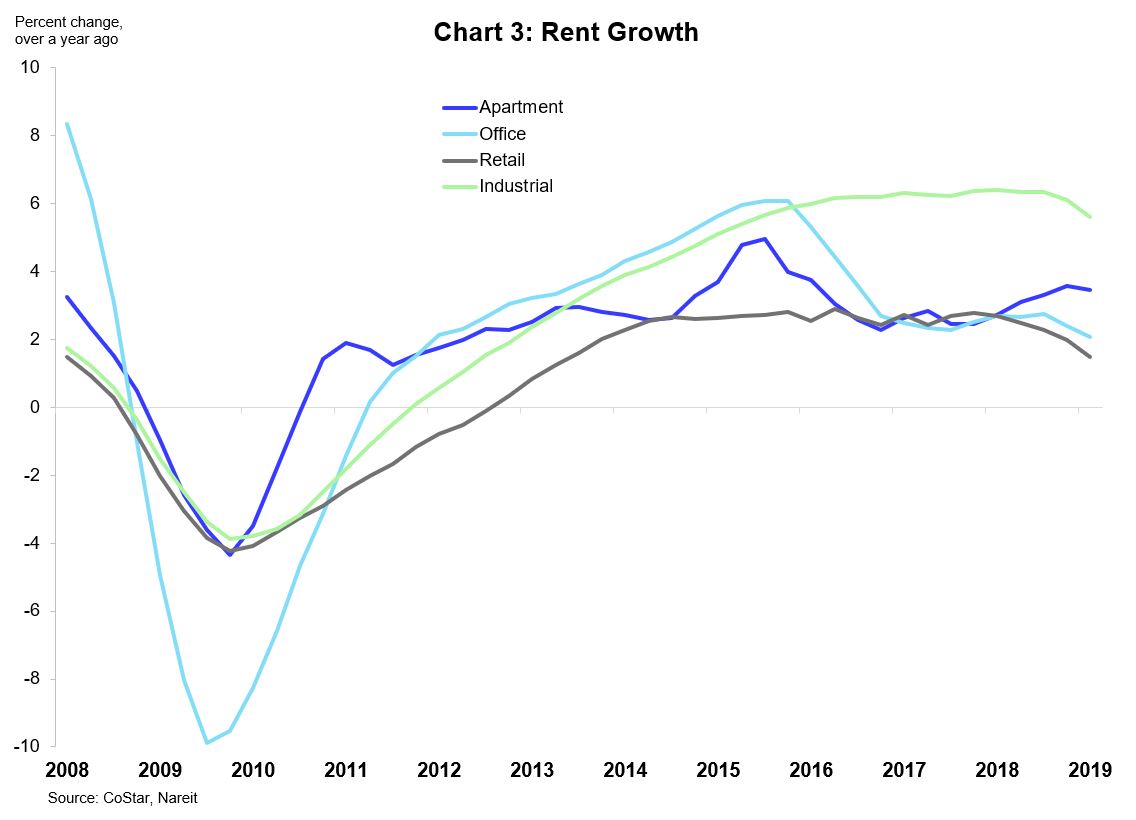 Rent growth decelerated in the first quarter as demand lagged new supply for most property types. It is not uncommon for market performance to diverge from the underlying fundamentals for short- to moderate periods of time. With a solid outlook for the economic drivers of real estate, however, there is likely more room for upside surprises in real estate in the months ahead.
Get Nareit Market Commentary blog posts delivered straight to your inbox.
Subscribe