GDP growth slowed to a 2.6 percent annual rate in the fourth quarter, from 5.0 percent in Q3.
Despite the deceleration in the headline number, however, the report was strong where it counts. Consumer spending, the mainstay of the U.S. economy, accelerated to a 4.3 percent annual growth rate, the strongest gain since 1993. The slowdown in overall growth stems from a decline in net exports due to weaker growth abroad and a stronger dollar. In addition, a drop in federal defense spending following a jump in the prior quarter subtracted from headline growth (see chart for each sector's contribution to overall GDP growth; consumer spending is in dark blue).
Recent trends suggest, moreover, that the recent slowdown may be short-lived. A virtuous cycle of growth is developing in which robust job growth bolsters household incomes and consumer confidence, which in turn lead to stronger consumer spending. From the business perspective, consumer spending means better sales growth, which reinforces the need for more hiring… which further supports the whole cycle. The recent decline in oil prices is also on net a positive for the U.S. economy. While lower prices hurt oil company earnings and the regional outlook in the energy producing states, lower gasoline prices are a boon for consumers, freeing up spending power.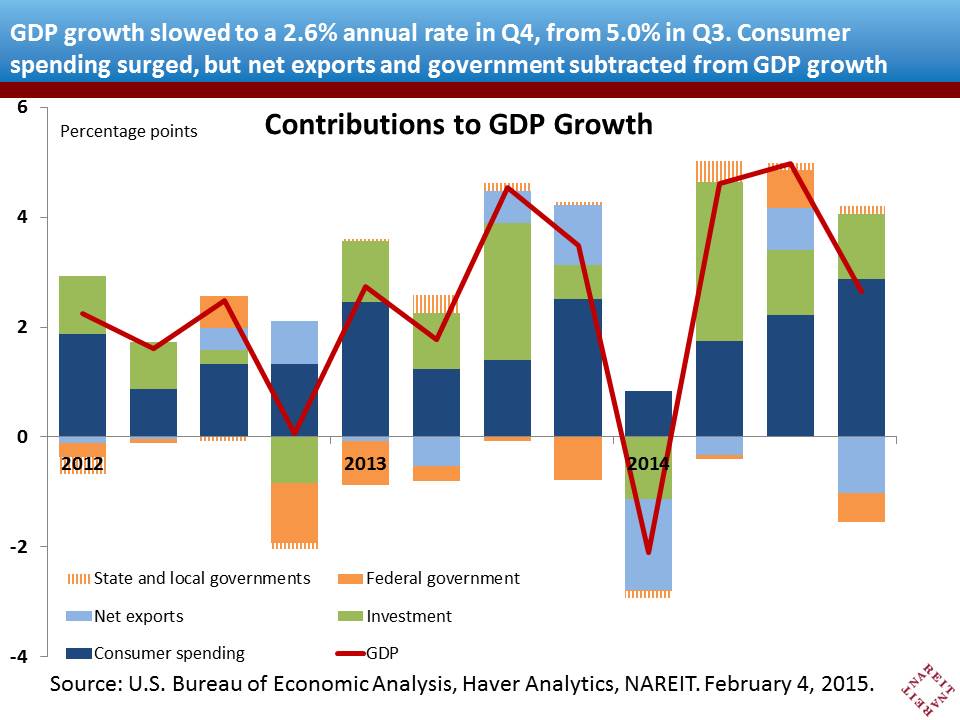 Get Nareit Market Commentary blog posts delivered straight to your inbox.
Subscribe