Strong Rental Demand Still Driving Fundamentals for Multifamily Housing
The demand for rental housing continued its strong growth in the first quarter, with total rental household growth accelerating to a 3.1 percent annualized rate. The number of owner-occupied housing units, in contrast, continued to decline.
Demand for rental housing shows no signs of slowing, even as the single-family home sales market shows signs of new life. In part this reflects investors who are buying homes to convert to rental use. In addition, however, the large pent-up demand of potential renters who are currently doubled-up with family and friends provides strong support for multifamily housing, and will likely continue to do so well into the future.
The state of household finances makes renting a more attractive option than home purchase, and it will take years for many of those currently sharing living space to save for a down payment and qualify for a mortgage to buy a home. In short, worries about the end of the renter era are premature.
The recent data on household formation also dispel concerns about a coming wave of supply across the nation. The number of occupied rental households rose 610,000 over the past four quarters. Even taking into consideration those single-family rentals mentioned above, the growing demand far exceeds new construction; multifamily housing starts rose in the first quarter to a 325,000 annual rate. Some markets face a burgeoning supply pipeline, but the overall balance between new construction and household formation across the country indicates a further firming of rental occupancy rates this year and next.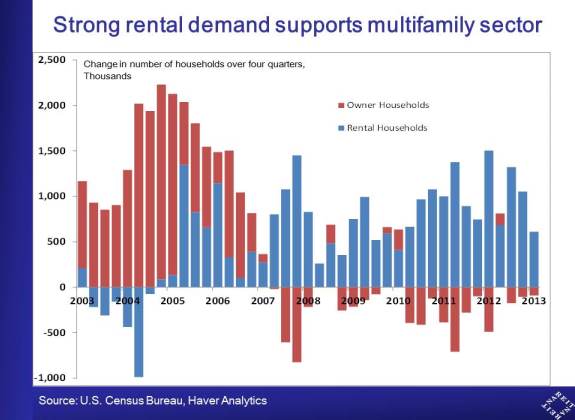 Get Nareit Market Commentary blog posts delivered straight to your inbox.
Subscribe