Federal revenues signal a stronger economy
Federal government revenues are closely related to the strength of economic activity, because as workers' incomes and business sales rise and fall, their tax payments follow suit. The U.S. Treasury Department reports revenues less than two weeks following the end of a month, making the trend in revenues a useful real-time indicator of the growth of the overall economy.
The chart below shows that revenues and GDP growth track each other closely over time. Revenues have accelerated strongly in early 2013, and rising more than 20 percent over year ago. This is the most rapid acceleration in almost a decade, suggesting that the economy continues to gain momentum.
The surge in Federal revenues supports our outlook of stronger GDP growth driving an improvement in commercial real estate in the second half of this year and in 2014. While we expect cuts in government spending due to the sequester to reduce GDP growth relative to the baseline, most other news indicates that the baseline has risen this year—perhaps by an even greater amount.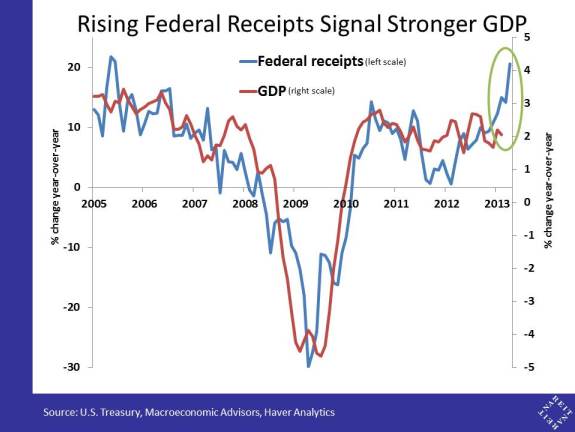 Get Nareit Market Commentary blog posts delivered straight to your inbox.
Subscribe