Commercial property prices were flat in March. The recovery in commercial property prices paused after having regained nearly half the decline that occurred during the financial crisis.
Apartment prices edged down 0.1 percent in March. Prices rose 18.0 percent over the prior 12 months, outpacing other commercial property sectors, and have recovered two-thirds of the peak-to-trough decline;
CBD office prices moved higher with a 0.3 percent increase, while prices of suburban office fell 3.5 percent. CBD office markets have recovered 62.5 percent of the peak-to-trough decline, versus 25.2 percent for suburban markets;
Retail turned up 1.7 percent in March after having declined in December and posting weak gains in January and February;
Industrial accelerated with a 1.7 percent increase in March, bringing the 12-month change into the double-digits for the first time since 2007.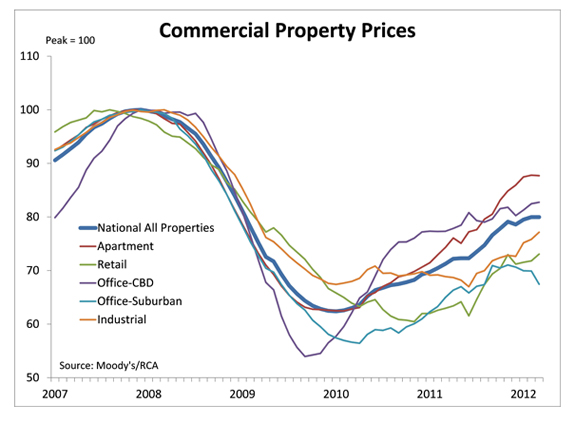 Get Nareit Market Commentary blog posts delivered straight to your inbox.
Subscribe