Recent macroeconomic headlines have been mixed. While the fears of a possible recession have faded, several of the main indicators for economic growth have softened of late. GDP growth slowed to 2.6 percent in the fourth quarter, compared to 3.4 percent in the third and 4.2 percent in the second. Job growth stumbled in February, with nonfarm payrolls rising just 20,000, after a blowout 311,000 in January. Does this signal a looming slowdown?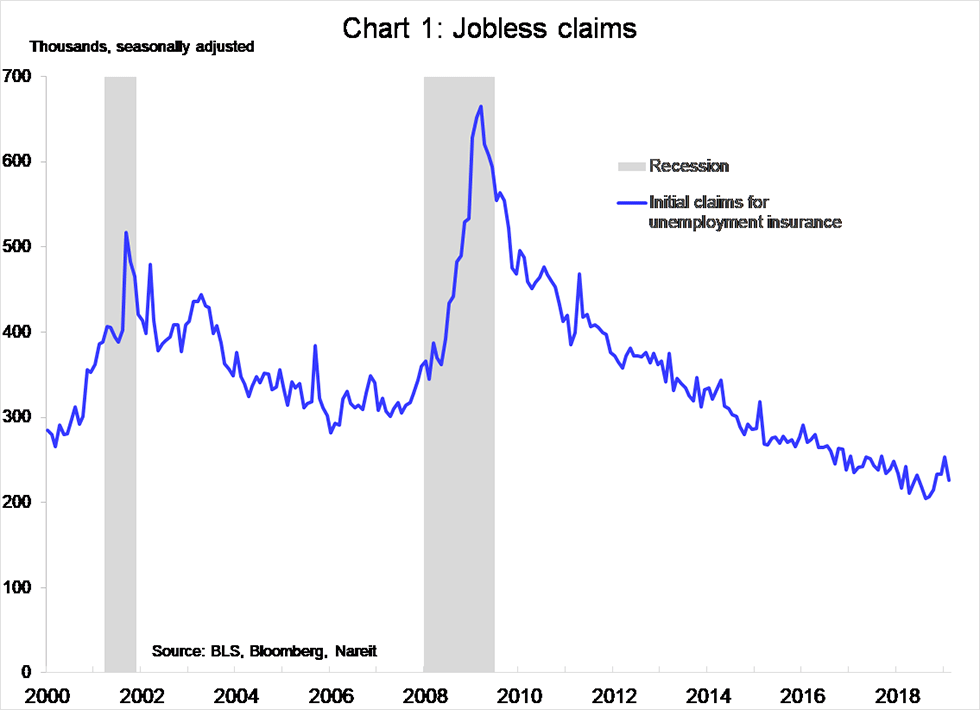 Other macro indicators reveal sustained strength that offsets the slowing in GDP and job growth. Consumer spending, the mainstay of GDP growth, started the year on a solid note as retail sales excluding autos and gasoline sales rose in January. The rebound was modest after a sharp decline the prior month, but sales were still 3.6 percent higher than a year ago. Similarly, shipments of nondefense capital goods excluding aircraft and parts, the main indicator for business investment, were 4.2 percent higher in January 2019 than one year earlier. Even the job market outlook is still solid, as initial claims for unemployment insurance, which tend to rise as demand for workers weakens, have remained near historically record low levels.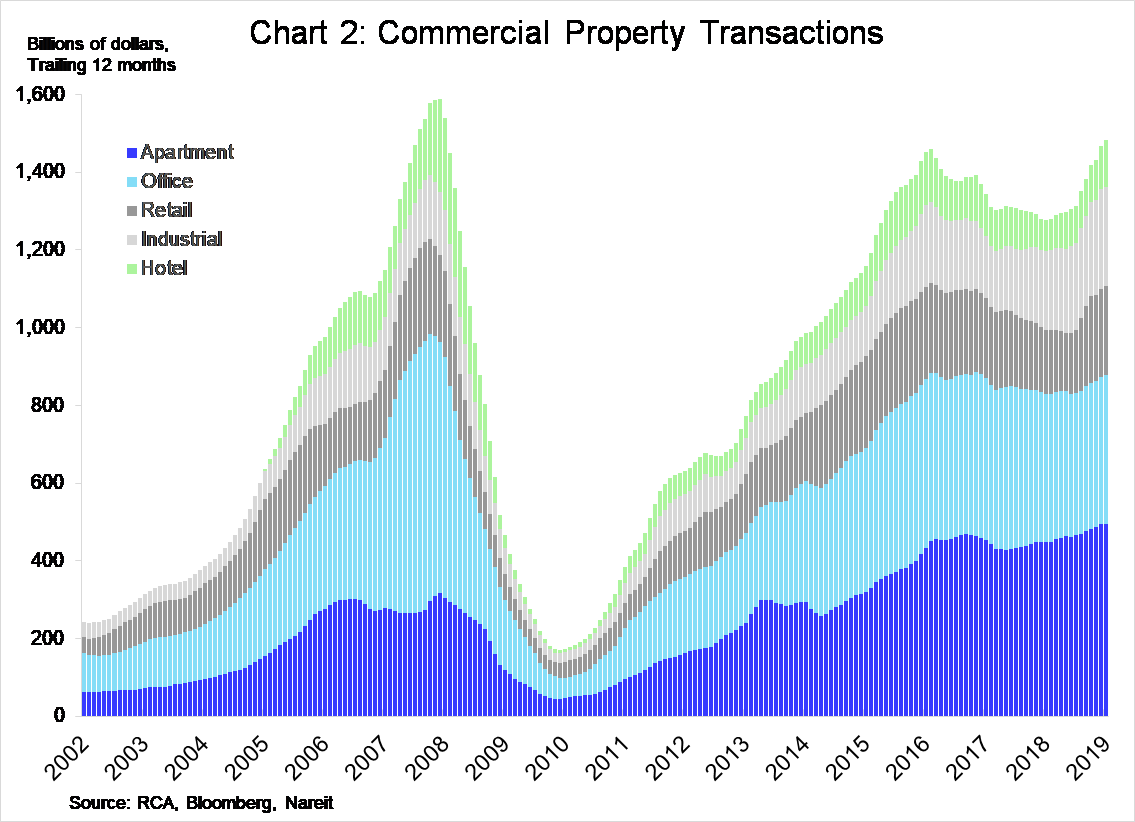 Commercial real estate markets showed signs of momentum early in 2019. There is still a considerable amount of money looking for real estate investments. The total volume of commercial real estate transactions has picked up, and over the past 12 months was 16 percent higher than over the prior 12 month period. (See Demand for Commercial Real Estate Shows No Signs of Slowing for a recent market commentary on the growth of demand for leased space.)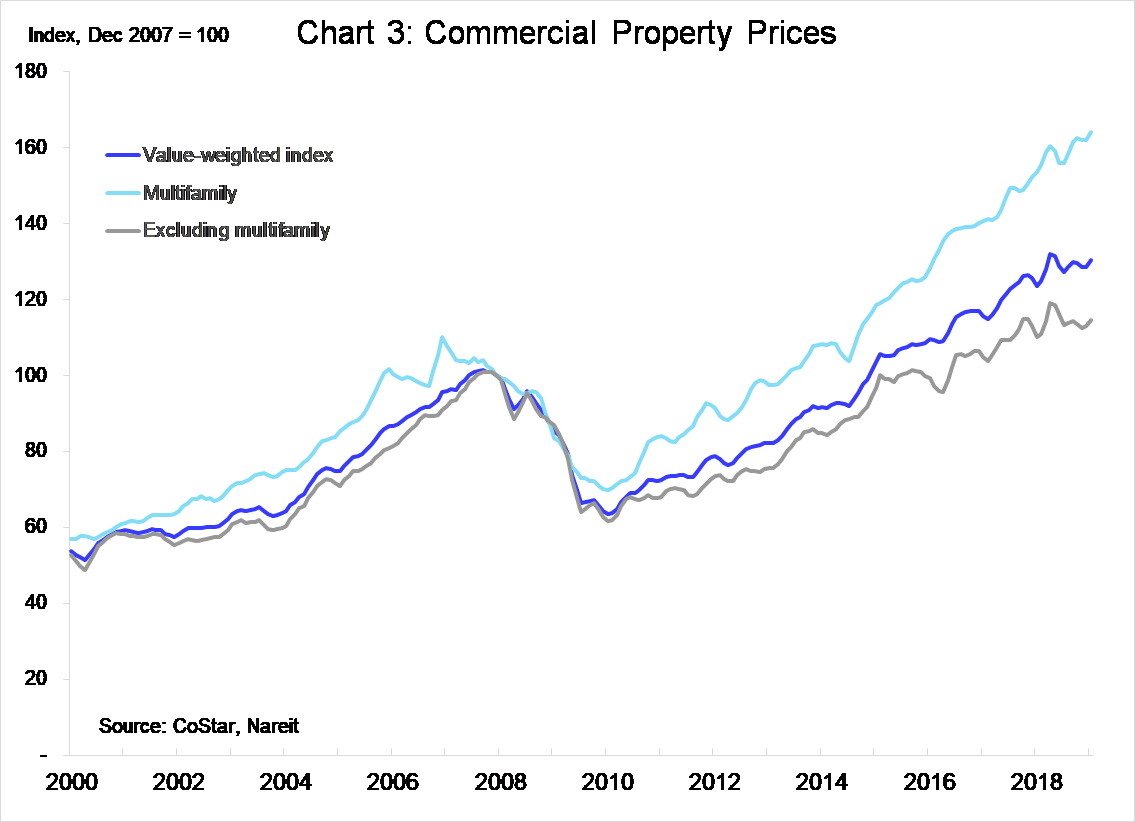 Commercial property prices continue to rise in this environment with supportive economic fundamentals and steady demand growth. Prices in January were 5.4 percent higher than one year earlier, according to CoStar, and are 30 percent above their level in 2007. Prices of multifamily properties rose 6.8 percent over this period, and are 65 percent above the 2007 level, as the need for rental housing has not slacked in the long tail of the housing crisis, contributing to low vacancy rates and high rents. Prices of properties excluding multifamily rose as well, posting a 4.0 percent gain over 12 months.
The outlook for REITs and commercial real estate remains favorable, despite some mixed macroeconomic news in the early months of this year. Recent data confirm the outlook we posted a few months ago, that 2019 is likely to be a good but not great one for commercial real estate and REITs, with some slowing of GDP growth but continued low inflation and low interest rates providing solid support for real estate markets
Get Nareit Market Commentary blog posts delivered straight to your inbox.
Subscribe