Two steps forward, they say, but one step back. In the case of the job market, March was one very big step back. Total nonfarm payrolls increased just 126,000, less than half the average pace over the past six months. The unemployment rate was unchanged at 5.5 percent. There was one bit of positive news in an otherwise disappointing report, however, as average hourly earnings increased 0.3 percent.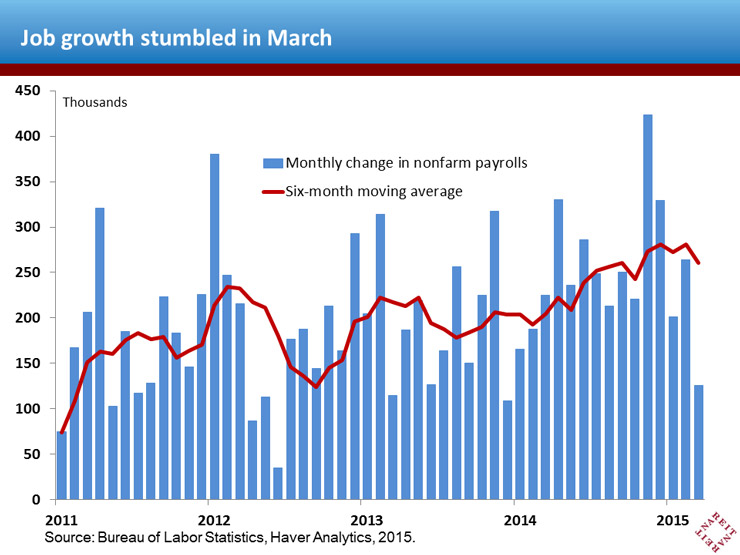 The trend in job growth still remains near the highest yet in this economic recovery, but the sudden slowing raises the question whether this is merely a payback after several months of above-trend hiring, or whether it is a warning sign of more serious cracks in the foundation of the economic recovery.
Indeed, there have been other weak signals from the economy, including lackluster retail sales growth and a decline in orders for durable goods, and mixed results on the housing markets. And while there are temporary factors that could have had a short-term impact on the economy (winter storms, the West Coast port strike), there's also a risk that a stronger dollar and economic troubles in Europe could take a bite out of exports and manufacturing sectors.
Other reports, however, suggest that the economy still has staying power. Initial jobless claims have not moved up in recent weeks, as would normally occur when underlying conditions in labor markets deteriorate. Indeed, initial claims are below where they were for much of the boom years a decade ago. Consumer confidence, moreover, moved back up in March to near its highest point in this recovery. On balance, we see more evidence of temporary factors than a worrisome slowdown in labor markets, and expect job growth to turn back up in the months ahead.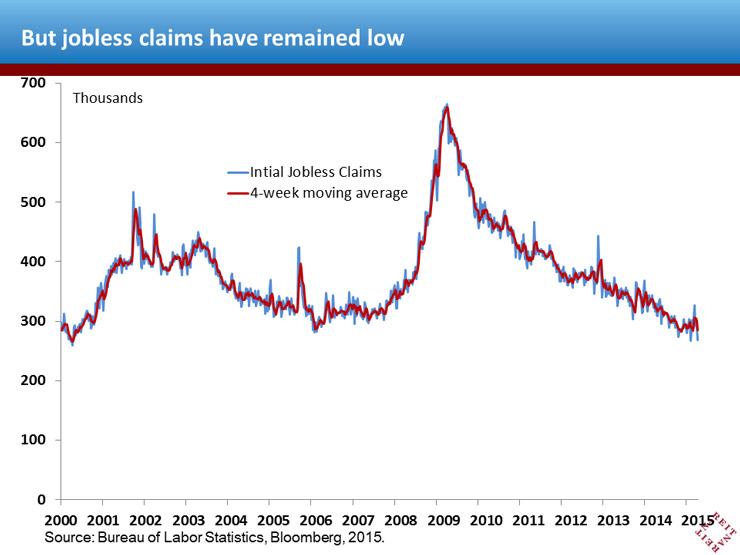 Get Nareit Market Commentary blog posts delivered straight to your inbox.
Subscribe