Stock markets have been in a push-pull battle between positive news of the economy reopening, on one hand, and continuing concerns about containing the coronavirus pandemic on the other. Last week the fears had the upper hand. REITs gave back half of the gains they had lodged in the prior week on the surprising upturn on employment in May. The FTSE Nareit All Equity REITs index posted total returns of negative 4.5%. Broader markets were down as well, with the Russell 1000 reversing nearly all the gains of the prior week.
Last week's returns by property sector were negative across the board, with those sectors that are on the front lines of the pandemic registering the largest losses. Lodging/resorts and retail had returns of negative 10.1% and negative 9.4%, respectively. In contrast, the sectors that are linked to the internet economy, data centers and infrastructure, edged slightly lower. Home financing mREITs were little changed for the week.
The see-saw continues into the third week of June. Markets rose a bit on Monday of this week, and opened sharply higher on Tuesday following a surprisingly positive report on retail sales in May.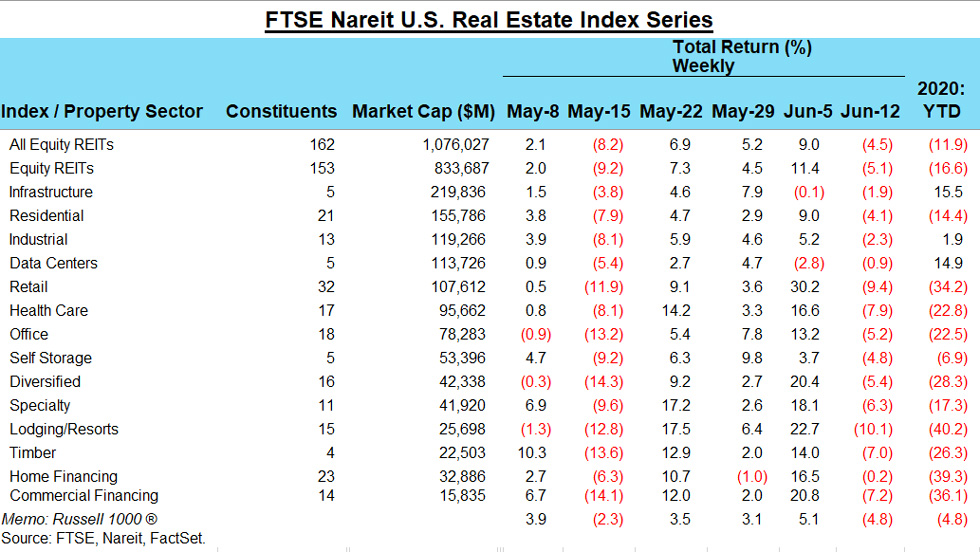 Get Nareit Market Commentary blog posts delivered straight to your inbox.
Subscribe