Total returns from a passively managed investment in the broad listed U.S. equity REIT market averaged 11.46% per year over the 20 years ending April 2015, substantially better than the broad stock market at just 9.50% per year.  Equity REITs own and manage assets in a variety of property types, so investors can choose a broadly diversified real estate portfolio or can focus on property types that they expect to outperform in the future.  How much difference has there been in long-term performance among listed equity REITs in different property types?
The strongest total returns over the past year have come from the Residential REIT sector (+25.0%), especially REITs that own manufactured home communities (+33.2%) including Equity Lifestyle Properties (ELS), Sun Communities (SUI), and UMH Properties (UMH).  Over longer historical periods the strongest performance has come from the Self Storage REIT sector (+21.4% per year over the last five years, +16.6% over the last 20 years), including Public Storage (PSA), Extra Space Storage (EXR), CubeSmart (CUBE), Sovran Self Storage (SSS), and National Storage Affiliates Trust (NSA).  (SSS does business under the name Uncle Bob's, and NSA operates under several trade names.)  NAREIT started tracking returns by property type starting at the beginning of 1994.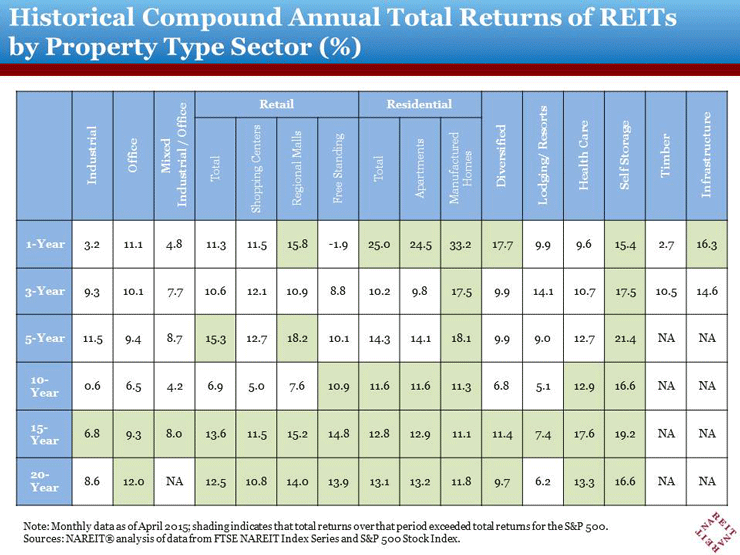 In the case of the Self Storage REIT sector, the largest share of total return has come from stock price appreciation, which averaged 12.98% per year over the past 20 years, along with income averaging 3.59% per year.  To put this into perspective, if you originally invested $10,000 in the Self Storage REITs at the end of April 1995 and rebalanced it according to the FTSE NAREIT Self Storage REIT Index, then as of the end of April 2015 (ignoring taxes and fees) the value of your initial stock holdings would have grown to $89,440 while you would also have received $44,310 in dividends.  That's an average of $2,215 per year, or $185 per month, although the actual payments would have grown over time.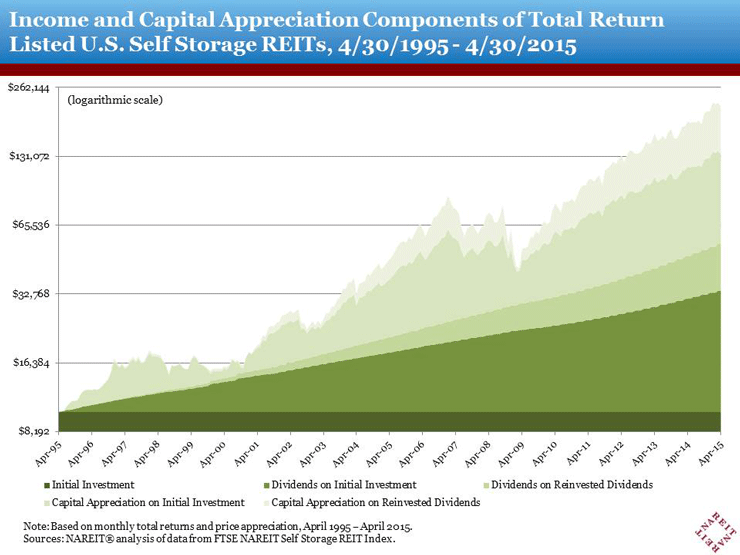 In contrast, over the same period the Health Care REIT sector provided virtually half of its strong total return (13.3% per year) in the form of steady dividend income.  The same initial investment of $10,000 at the end of April 1995, but invested according to the FTSE NAREIT Health Care REIT Index, would have grown into a stock holding of $29,288 (6.81% per year) while paying $54,882 in dividends, an average of $2,744 per year or $229 per month.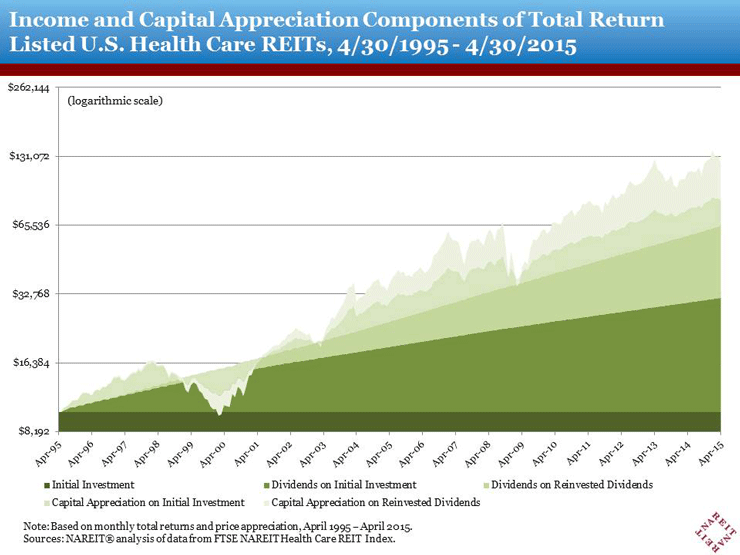 While all listed equity REITs give investors access to the real estate market cycle—and therefore a strong source of diversification relative to the business cycle that their non-REIT stock holdings expose them to—the various property types provide investors the benefit of different macroeconomic forces driving both supply and demand, giving investors the opportunity to focus on segments of the real estate market that they believe are poised to perform especially well.  They have also presented different return profiles, enabling investors to identify the property types that most closely fit their needs for capital appreciation or steady current income.
Get Nareit Market Commentary blog posts delivered straight to your inbox.
Subscribe