Most REIT sectors edged higher last week, with nine of 14 REIT sectors posting a positive total return. Some of the largest gains were among industries that had experienced bigger declines as the covid-19 crisis unfolded, including retail (total return of 14.6% last week), commercial financing mortgage REITs (11.8%), diversified (8.2%) and lodging/resorts (7.9%).
Many of the sectors that had experienced more moderate declines or even were in positive territory through late April, in contrast, drifted lower last week. These declines, however, were not large, at least relative to recent market moves during the covid-19 crisis: Infrastructure (-4.2%), data centers (-2.4%), industrial (-1.9%) and self storage (-1.8%). Data centers and infrastructure are still in positive territory year-to-date even after these declines, and the industrial sector remains ahead of the Russell 1000 in terms of total return so far this year.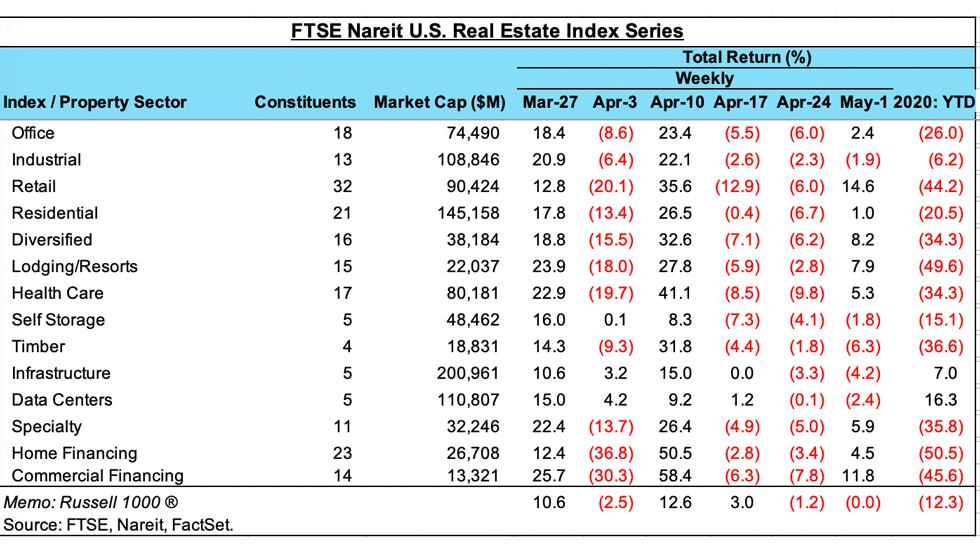 Get Nareit Market Commentary blog posts delivered straight to your inbox.
Subscribe