New construction of multifamily housing units slowed a bit in May from April's torrid pace, yet remained on a rising trend. Multifamily housing starts were at an annualized rate of 349,000 units, down 18.5% from April but still well above the 300,000 unit trend that had been in place for the decade or so prior to the Great Recession. Construction is likely to continue rising over the remainder of this year, especially as permits for multifamily construction jumped to a 557,000 unit annual rate, more than 50% above a year ago.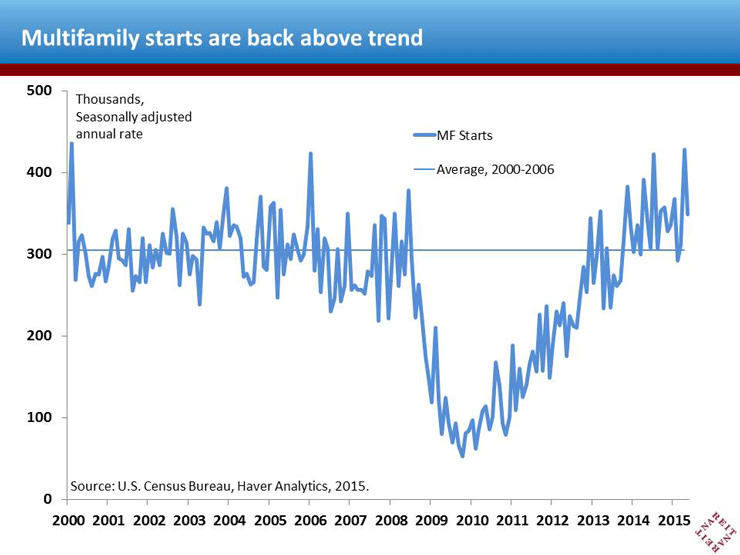 How much of a threat does this new supply pose to multifamily REITs and other owners of apartment properties? Here are three points to consider:
We're still working off a backlog. Construction activity ground to a halt in 2009-2011, and has only recently returned to the pace needed to match a growing population. Builders still haven't made up for the backlog of roughly 3/4 million units that didn't get built during the crisis;
Economic fundamentals favor household formation and rent growth. With the job market back on keel, many Millennials who have been doubled up with roommates or parents for the past few years are likely to want a place of their own. And recent wage trends are showing some signs of life, which would allow renters of any age to afford the current trend of rent growth. All this bodes well for demand for apartments and for sustained rent growth; but
Any new supply can have local impacts as new units come on market. The fact that there may be a nationwide demand for more apartments, or that workers across the country have a bit more generous paychecks, may do little to blunt the local impact of a new apartment complex opening on rents in the neighborhood. Some local markets may indeed see some softer rent growth as the new supply is absorbed. So long as the overall economic recovery and job market growth remain on track, however, such dislocations are likely to be short lived.
Get Nareit Market Commentary blog posts delivered straight to your inbox.
Subscribe