Stock market posted their strongest weekly return in many years last week, despite having only four trading days due to the Good Friday holiday. The FTSE-Nareit All Equity REITs index recorded a total return of 22.28%, reversing a portion of the steep declines as the covid-19 crisis intensified during the month of March. The S&P 500 also delivered a double-digit performance, although the 12.15% total return lagged REITs by a wide margin.
The markets have gained ground in two of the past three weeks despite news of record levels of jobless claims as firms close to curb the spread of the virus. These gains reflect expectations that actions by policymakers on Capitol Hill, in the White House and at the Federal will help support the economy and financial markets through this crisis period.
In particular, the Paycheck Protection Program (PPP) aimed at supplying liquidity to help fund loans to small businesses, the Fed's $600 billion Main Street Lending Program for small and mid-sized businesses and the expansion of the Term Asset-Backed Securities Loan Facility (TALF) are expected to bolster businesses across many sectors. Commercial mortgage loans will be eligible for funding through the TALF, helping provide liquidity to REITs and other real estate companies that may experience a drop-off in rent receipts from tenants.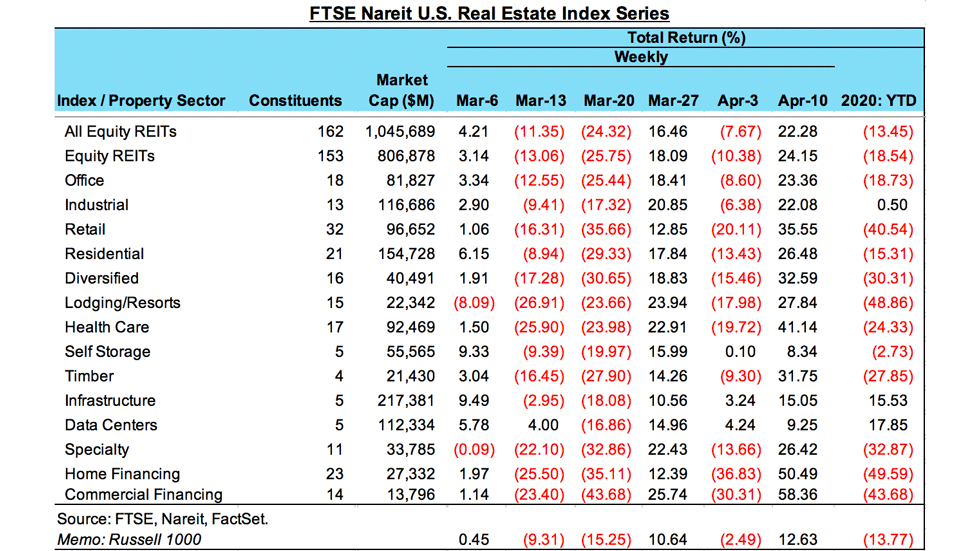 All REIT property sectors had gains in the week ended April 10. Health care REITs had a 41.14% total return for the week, more than reversing the nearly 20% decline the prior week. Retail, diversified and timber REIT sectors all had gains greater than 30% for the week.
One indication of the breadth of last week's rebound is that the "lagging" sectors — self storage, data centers and infrastructure — "only" had returns of 8.34%, 9.25% and 15.05%, respectively, for the week. The sectors had not posted earlier deep losses like many other sectors, however, and data centers and infrastructure have total returns year-to-date in double-digit positive territory. Industrial REITs edged into the black for the year, and self storage are only down slightly in 2020.
mREITs shares had an even more robust rally last week, with home financing mREITs delivering a total return of 50.49% and commercial financing mREITS having a return of 58.36%. mREITs had suffered larger declines in prior weeks, however, and their year-to-date performance remains at a deep discount.
Get Nareit Market Commentary blog posts delivered straight to your inbox.
Subscribe