The year 2016 ended on a strong note with further declines in vacancy rates and solid rent growth across most commercial real estate markets, according to recent data from CoStar. Industrial properties continue to shine, on the strength of shipments of E-Commerce purchases. Office and retail markets saw further tightening as well. The apartment sector, in contrast, appears to have hit an air pocket, with vacancy rates edging upward and rent growth slowing further.
Vacancy rates in industrial, office and retail markets were down 5 to 9 basis points since last quarter, and are 35 to 50 basis points lower than one year ago (first chart). Apartment vacancy rates, however, have risen for the sixth consecutive quarter, and are 78 basis points above their low point reached in 2014:Q3.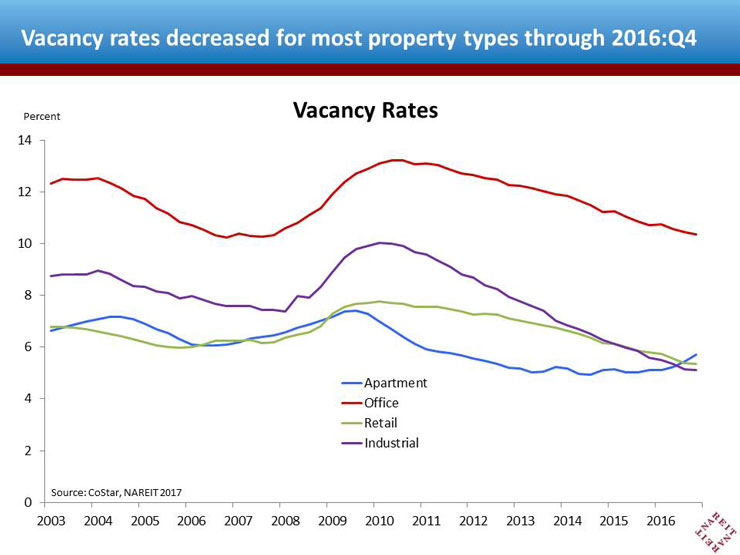 Rent growth slowed a bit for most property types. Office and Retail rent levels were up 3.2 percent and 2.6 percent, respectively, compared to one year ago. Rent growth in the office and retail sectors have slowed modestly from their post-financial crisis peaks. Apartment rent growth has seen the largest deceleration, with a 2.2 percentage point decrease compared to rent growth a year ago. Growth over the year for the Industrial sector, in contrast, was 6.8 percent, a 22 basis points increase from last quarter and a 56 basis points increase from a year ago.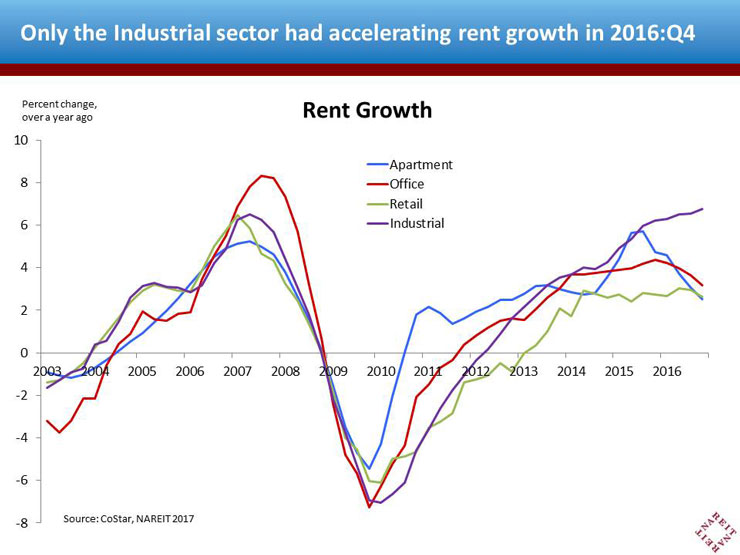 Despite rent growth softening, NOI growth continued to accelerate for most sectors in 2016:Q4. Apartment, Office, and Industrial saw increases in NOI growth, while growth for Retail remained nearly identical to last quarter. Net absorptions outpacing completions and falling vacancies both contributed to NOI growth.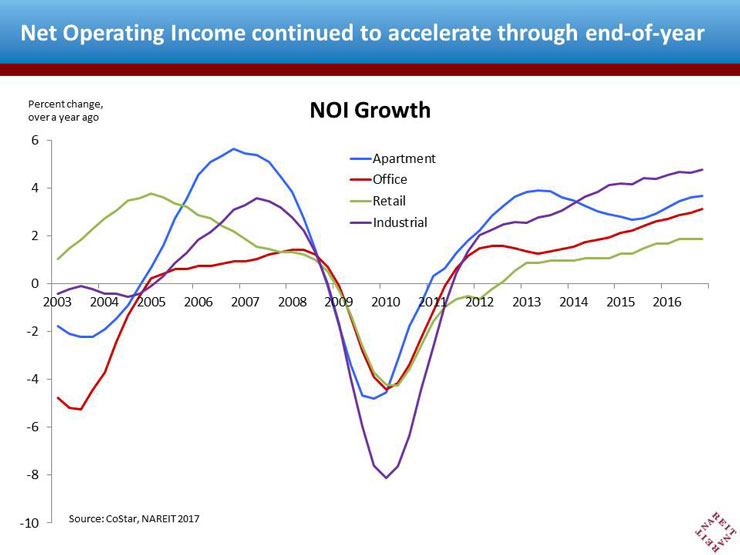 The softening in apartment markets is no surprise, as signs of cooling after a torrid run in 2014 and 2015 have been widely noted. What is surprising, however, is the data suggest that a surge of new supply may not be playing as much a role in the sector's slowing as is commonly believed. The chart below shows net absorption (i.e. growth in demand, in blue bars), net completions (i.e. growth of supply, in red bars), and, in the solid line, the difference between demand and supply. New completions of apartment properties were down 15 percent in 2016 compared to the prior year.
A cooling in demand has played a larger role in the Apartment sector's recent softening than has the supply wave. Net absorption is off 45 percent from the prior 2015. There is still large pent-up demand for apartments, however: for example, the percentage of young adults living with their parents is at its highest since the 1940s. Skyrocketing rents and only moderate wage increases across the country are keeping possible renters out of the market. As wages increase and more civilians enter the labor force, demand for apartments will likely return to higher levels.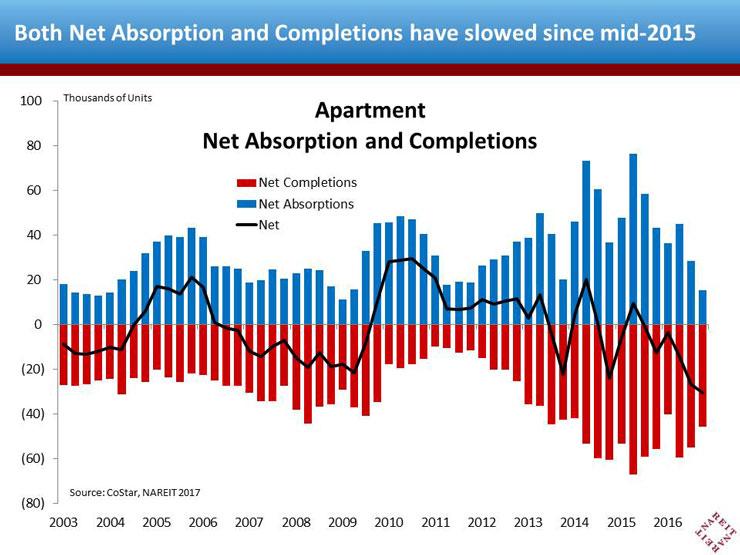 In sum, the data show positive fundamentals entering the New Year. Supply remains in check, and demand growth is sustained, despite some bumps along the way. The outlook for commercial real estate conveys a positive environment for REITs in the coming year.
Get Nareit Market Commentary blog posts delivered straight to your inbox.
Subscribe