The 3rd quarter ended with property values in the U.S. down 7.9% since the end of 2014, with declines of 8.2% during 2015Q2 and 1.9% during 2015Q3 following the gain of 2.2% posted in 2015Q1, according to the FTSE NAREIT PureProperty Index Series.  The PureProperty series, an investable product launched on June 1 by FTSE Russell, measures capital appreciation and total returns on unlevered property investments in U.S. apartment, health care, hotel, industrial, office, and retail properties owned by listed U.S. equity REITs.
Total returns, including income as well as price appreciation, have averaged -5.4% year to date, with losses of 7.3% during 2015Q2 and 0.9% during 2015Q3 following the gain of 3.1% during 2015Q1.
Apartment properties have actually increased in value during 2015, with gains of 4.0% in 2015Q1 and 1.9% in 2015Q3 more than offsetting a loss of 5.0% during the 2nd quarter.  All other property types have lost value year-to-date.  Apartment property values have been particularly strong in the East Region (+3.9% YTD) and the Midwest Region (+3.6% YTD), while Apartments in the West (-4.4%) and Midwest (-4.7%) regions have declined in value.
Measures of property values based on private transactions—such as the NCREIF Transaction-Based Index (NTBI) published by the National Council of Real Estate Investment Fiduciaries, the Moody's/RCA Commercial Property Price Index (CPPI) published jointly by Moody's and Real Capital Analytics, and the CoStar Commercial Repeat Sales Index (CCRSI) published by CoStar Group—have recorded strong price appreciation since the start of the year, but the values recorded by such indices typically lag behind those revealed in public markets by about two quarters because of the lengthy process of negotiating prices and closing transactions for assets as illiquid as properties.  This suggests that the same factors that suppressed the values of REIT-owned properties in 2015Q2 and 2015Q3 may have caused downward pressure that will be revealed by private transactions in 2015Q4 and 2016Q1.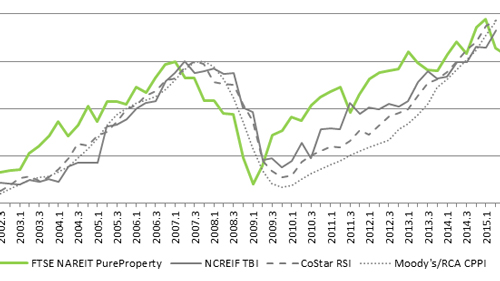 Get Nareit Market Commentary blog posts delivered straight to your inbox.
Subscribe