Investment real estate values increased by +4.1% during July 2016 according to the FTSE NAREIT PureProperty® Index Series, which provides the earliest measurement of changes in the market values of properties held for investment purposes.  The East and West regions saw the strongest appreciation at +4.4%, with the Midwest region close behind at 4.2%.  The South region saw property appreciation averaging "just" 3.0% during July; as Chart 1 shows, however, the South region continues to lead the other regions through the first seven months of 2016 with appreciation averaging 15.5% compared to 13.0% in the Midwest, 11.4% in the East, and 9.2% in the West.  Nationwide property appreciation  averaged 12.1% since the beginning of 2016.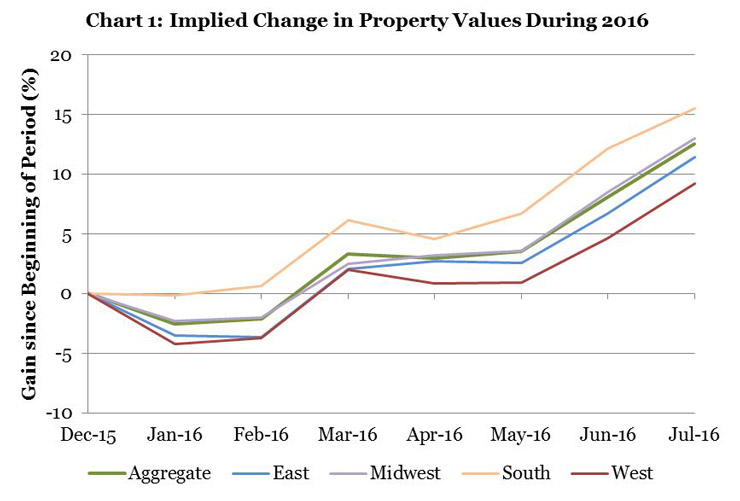 With distributed income from property investments averaging +0.23% nationwide, total returns averaged +4.3% during July; over the first seven months of the year, however, strong income and strong property appreciation combined to provide total returns averaging +15.1%.  Year-to-date total returns have been strongest in the South region at +18.3% with the Midwest at +16.0%, the East at +13.8%, and the West at +11.3%.
The PureProperty Index Series, launched in 2015, provides a daily measure of U.S. real estate price and total returns at the level of both property (unlevered) and equity investments.  The index series infers changes in the market values of apartment, health care, hotel, industrial, office, and retail properties owned by stock exchange-listed U.S. equity real estate investment trusts (REITs) by relating observed changes in stock prices to the property holdings of each REIT and correcting for the effect of each REIT's capital structure.
Because it evaluates returns by geographic region as well as by property type, the PureProperty index series can help investors take advantage of performance differences among targeted segments of the U.S. property market through diversified exposure to properties in each segment.  During July, for example, office properties in the West region significantly outperformed those in the Midwest region, with implied property values increasing by an average of +5.4% in the West Region Office segment compared to +3.0% for the Midwest Region Office segment, and total returns averaging +5.5% compared to +3.3%.  Similarly, retail properties appreciated more rapidly in the Midwest than in the South (+4.7% vs +3.8%) while apartment properties appreciated more rapidly in the West (+3.5%) than in the East (+0.5%).
Equity total returns measured by the PureProperty Index Series (+6.7% during July) exceeded equity returns measured by the FTSE NAREIT Equity REIT Index (+4.1%), reflecting somewhat weaker performance among equity REITs holding manufactured home communities (+3.1%), properties in the Specialty sector (+1.6%), data centers (-3.4%), and self storage facilities (-5.9%), which are not constituents of the FTSE NAREIT PureProperty Index Series.
Get Nareit Market Commentary blog posts delivered straight to your inbox.
Subscribe