A healthy job market is perhaps one of the most important economic fundamentals on the demand side for REITs and real estate. An increase in labor market stability from decreases in unemployment can foreshadow demand for REITs and real estate.
The most recent data on state unemployment rates from the Bureau of Labor Statistics (through the end of May) show that, compared with April, unemployment decreased in 22 states, increased in 11 states and was unchanged in 18 states.
A closer look at the data reveals differences between oil producing and non-oil producing states. Unemployment rates are declining in most non-oil producing states. However, unemployment is rising in oil producing states due to lower oil prices.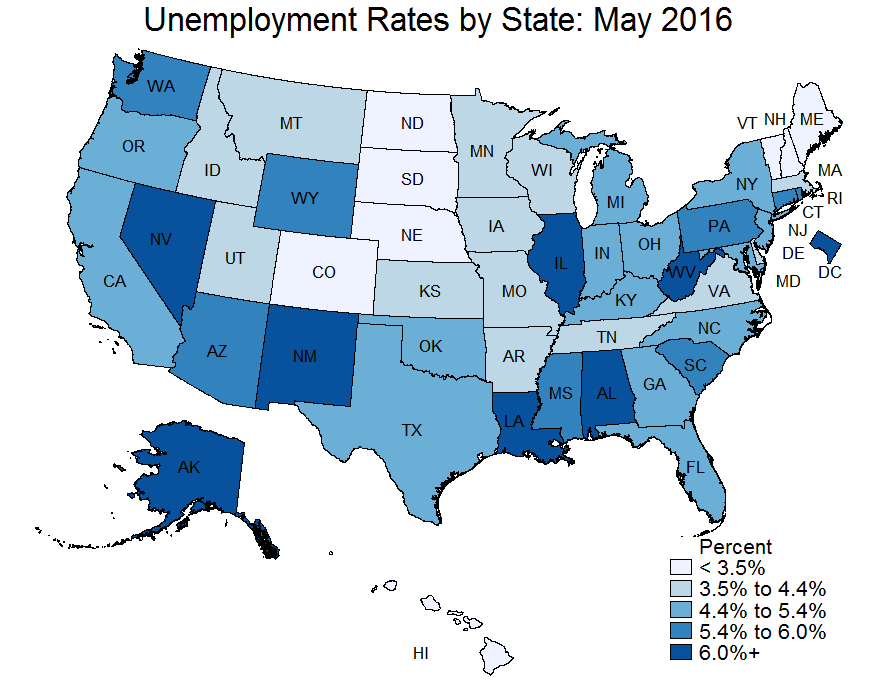 The map illustrates unemployment rates across the country. Unemployment rates are highest in Alaska at 6.7 percent.  Other high unemployment rates include:
Illinois at 6.4 percent;
Louisiana at 6.3 percent;
New Mexico and West Virginia at 6.2 percent; and
Alabama, Nevada and Washington, D.C., at 6.1 percent.
Unemployment rates are lowest in South Dakota at 2.5 percent, New Hampshire at 2.7 percent and Nebraska at 3 percent. The states with the largest listed REIT property ownership exposure saw decreases or no change in unemployment compared with last year. They include:
California at 5.2 percent;
New York and Florida at 4.7 percent;
Texas at 4.4 percent;
Massachusetts at 4.2 percent; and
Virginia at 3.8 percent.
Get Nareit Market Commentary blog posts delivered straight to your inbox.
Subscribe