REITs posted positive returns for the second week in a row last week, with a 2.1% total return on the FTSE Nareit All Equity REITs index.
Most sectors were up, including a 10.3% total return for timber REITs, a 6.9% total return for specialty REITs and 6.7% total return for commercial financing mREITs. Office, diversified and lodging/resorts declined slightly.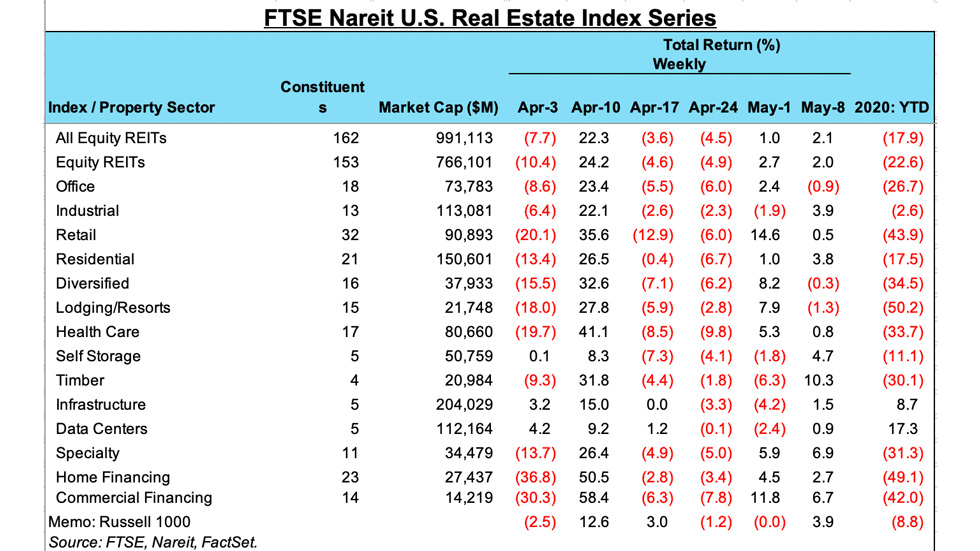 The current crisis developed far faster than prior market events, including the Great Financial Crisis of 2008-2009 (GFC). Stock market volatility spiked to extreme levels as social distancing began in March. The VIX index, which measures expected volatility of the S&P 500 derived from bid-ask quotes on options contracts, reached a record high of 82.69 on March 16, surpassing its peak of 80.86 during the 2008-2009 financial crisis.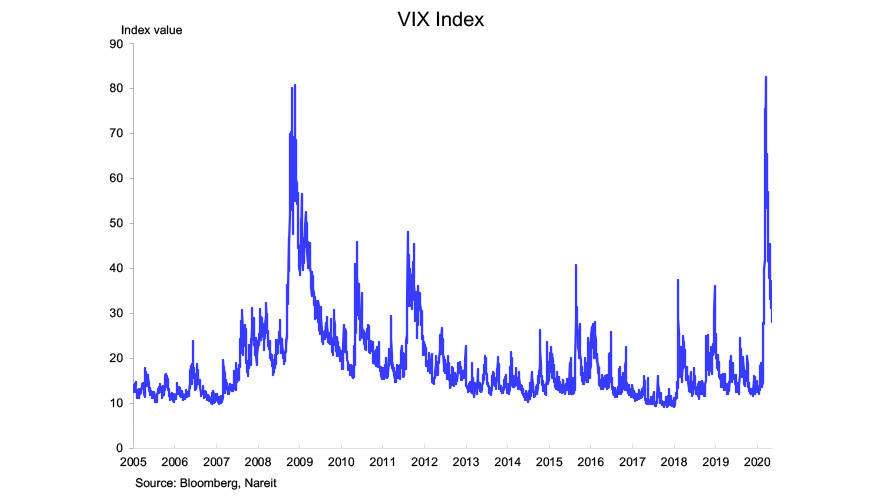 After that initial shock, however, volatility has subsequently retreated much more rapidly than it did during the GFC. The VIX index moved below 30 on May 8th, 39 trading days after reaching its peak. This is less than one-third of the 123 trading days that elapsed following the previous record peak during the GFC until the VIX moved back below 30.
The economy and real estate markets still face significant challenges in the months ahead. Recent economic reports, however, have been consistent with the outlook from a few weeks ago. Indeed, even the record job losses and increase in the unemployment rate reported last week had been anticipated from the jobless claims in prior weeks—and both REITs and the broader market rose following the jobs report.
Get Nareit Market Commentary blog posts delivered straight to your inbox.
Subscribe