REIT share prices declined last week, with a total return of -3.6% on the FTSE-Nareit All Equity REITs index. In more normal times a weekly move up or down of nearly 4% would be major news, but in a period of heightened volatility during the covid-19 crisis, this is the smallest move in quite a while.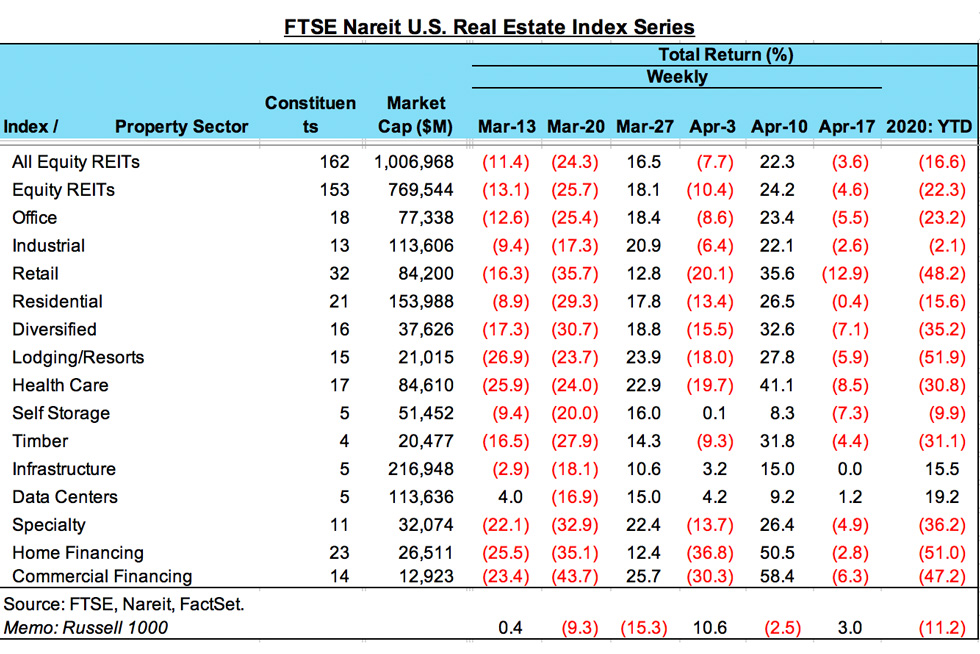 Last week's decline comes on the heels of the 22.3% gain the prior week, when markets responded favorably to strong policy actions. In the weeks ahead, investors should pay close attention to developments on three fronts: news updates on the covid-19 crisis and how social distancing is affecting the economy; further policy moves like additional funding for the PPP to help firms and households weather the crisis; and earnings reports for the first quarter, which gets underway this week.
We will be looking carefully in earnings reports for management's discussion of how the crisis has affected their businesses and their strategy for the next several months, as well as the adequacy of liquidity resources they have. Most REITs began this year with stronger balance sheets and ample sources of liquidity (see the recent market commentary, REITs Prepared for Coronavirus with Cash and Lines of Credit).
The performance of the various REIT sectors last week echoes recent periods. Retail is on the front lines of the crisis, and was the only sector to post double-digit negative returns, and remains deep in the red for the year to date. Most other sectors had single-digit negative returns that reversed a small fraction of the prior week's gains. Data centers and infrastructure, which have little direct effect from the social distancing measures, were little changed and remain up for the year to date.
Get Nareit Market Commentary blog posts delivered straight to your inbox.
Subscribe