Last week was a week of contrasts in the REIT universe. There had been a common pattern recently where most REIT property sectors moved more or less in line with each other, all rising by various amounts or, conversely, all sectors retreating. In the week through June 19, however, these paths diverged, and some sectors had significant gains while others declined by an appreciable amount. The overall REIT sector was slightly down, with the All Equity REITs total return index declining 0.6%.
Many of the property sectors with declines last week were those on the front lines of the pandemic. Lodging/resorts had a total return of -9.7%, while health care and retail each had total returns of -4.2%. There were news reports that the spread of covid-19 has continued at a more rapid pace than many had expected, which damped some of the hopes for future progress in reopening the economy.
There were several sectors, however, with gains on the week. Timber REITs posted a total return of 5.3% as a positive surprise in housing starts signaled a brighter outlook for homebuilding in the months ahead. Data centers and infrastructure REITs had returns of 4.2% and 3.2%, respectively, bringing their performance year-to-date close to 20%.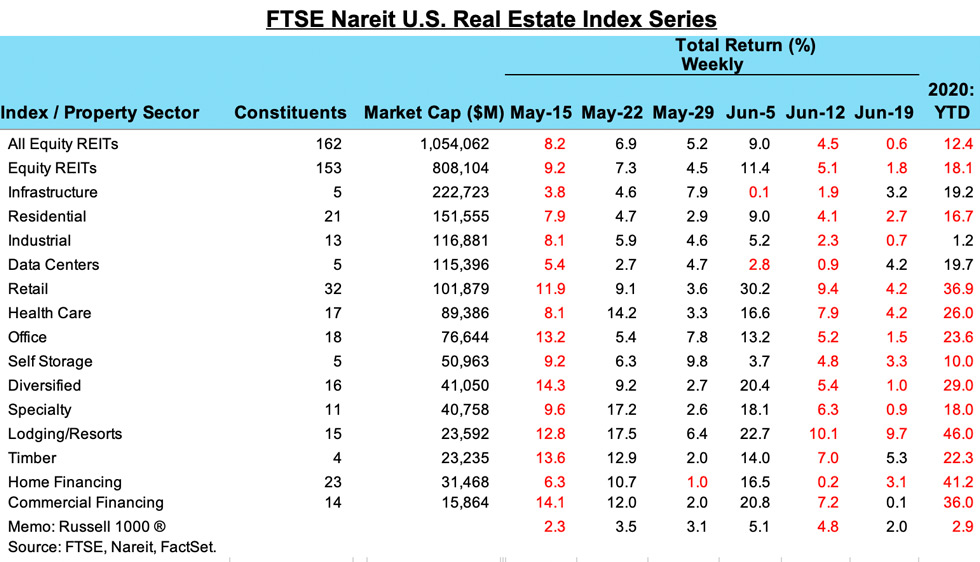 Get Nareit Market Commentary blog posts delivered straight to your inbox.
Subscribe