REIT share prices were down a bit last week as the tech selloff roiled the broader markets. The Nasdaq was down 4.1% for the week, with a cumulative decline of 7.8% in the first two weeks of September, due to concerns that the earlier runup in valuations may have been overly optimistic.
The FTSE Nareit All Equity index, in contrast, had a total return of negative 2.2% for the week, and is down 2.0% so far in September—much less than the decline in tech stocks or the broader market. Investors can reduce the overall volatility of their portfolio by holding REITs, which are exposed to a different set of forces than the broader market—rents generated by income-producing real estate do not move in lock-step with tech products and other sectors.
Two REIT property sectors declined 5% or more last week, with Lodging/resorts down 7.1% and Office down 5.3%. Most other sectors registered modest declines last week. Self storage REITs and Home financing mREITs rose, with total returns of 3.0% and 0.1%, respectively.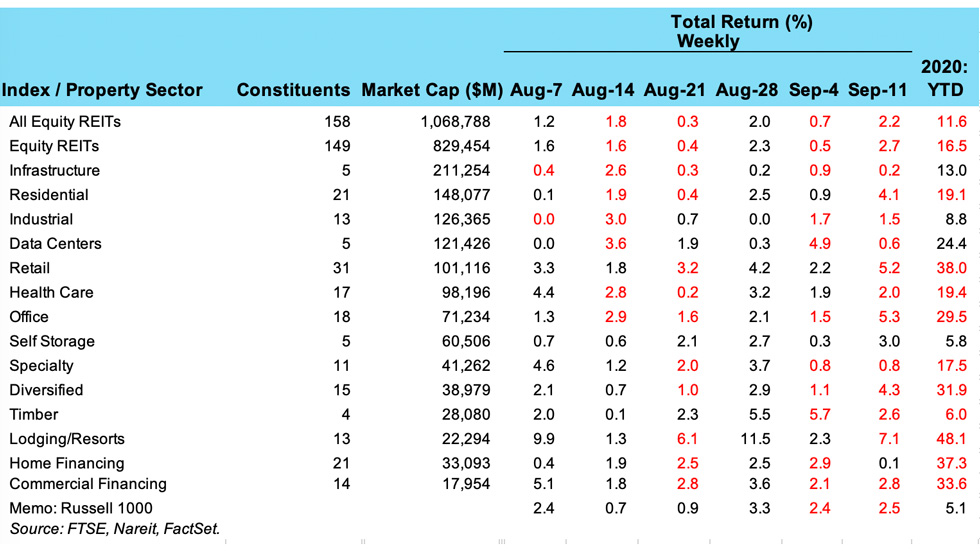 Get Nareit Market Commentary blog posts delivered straight to your inbox.
Subscribe