REITs declined in the week ended April 3, with a total return of -7.67%, giving back almost half of the gains they posted the week before. Broader markets were down as well, albeit by a bit smaller amount, with the Russell 1000 having a total return of -2.49%.
The sectors that have been most directly affected by the coronavirus crisis recorded the largest declines last week. The retail, health care and lodging/resort sectors recorded total returns of -18% to -20% last week.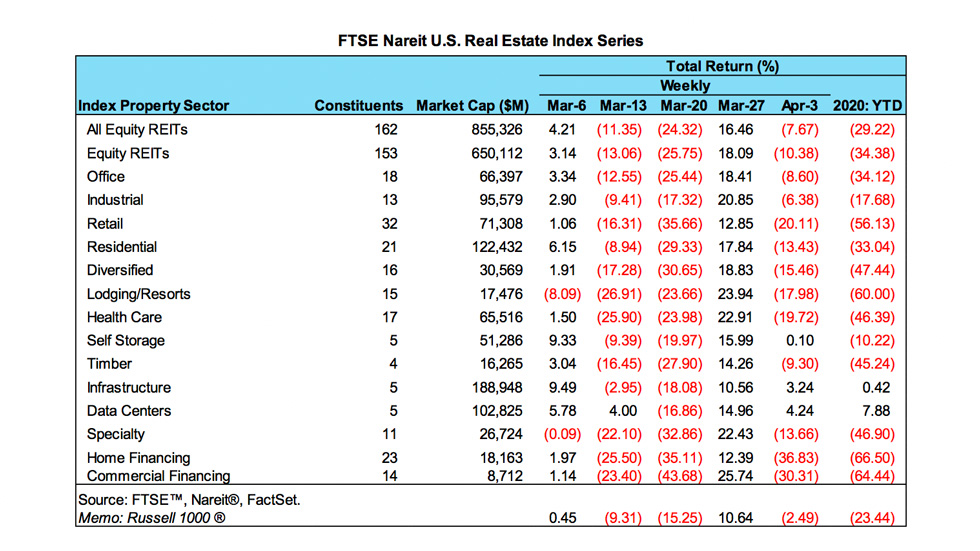 Other property sectors, however, experienced more mild declines or even rose last week. Many of these sectors have little face-to-face contact of customers or employees, and as such are less affected by the social distancing measures enacted to slow the spread of the virus. Self storage REITs were little changed on the week and are down 10.22% year-to-date, or less than half the decline in 2020 in total return on the Russell 1000.  Data center and infrastructure REITs, which house the servers that host cloud computing and maintain the cell towers that transmit both voice and data communications, respectively, were in positive territory both last week and for the year as a whole.
Mortgage REITs were hit by concerns that households and businesses may not be able to make their mortgage or lease payments due to job losses and store closures. Both home financing and commercial financial mREITs had total returns of -30% or more.
The range of experiences across the REIT property sectors underscores the REIT industry's ability to help diversify portfolio returns in an uncertain economic and financial environment.
Get Nareit Market Commentary blog posts delivered straight to your inbox.
Subscribe