REIT share prices gained last week, with the FTSE Nareit All Equity REITs index delivering a total return of 1.2%. This was the second week of rising share prices, after four straight weeks edging lower through September. October's gains have been larger than September's losses, however, and valuations are back above their end-August levels.
Most REIT property sectors rose. Data centers and industrial REITs had total returns of 6.2% and 3.3%, respectively. These sectors, along with infrastructure REITs (down 0.1% last week), have been buoyed by rising demand in the digital economy during the pandemic. Total returns year-to-date among these tech-linked REITs range from 15.0% for infrastructure and 16.8% for industrial, to a whopping 37.0% for data centers.
Five REIT property sectors were down last week, but the declines were minor, the largest being in the health care sector, which had a total return of -1.3%. The other four sectors had declines of less than one percent.
mREITs were up for the second week in a row, with a total return of 1.4% for home financing mREITs and 1.6% for commercial financing mREITs.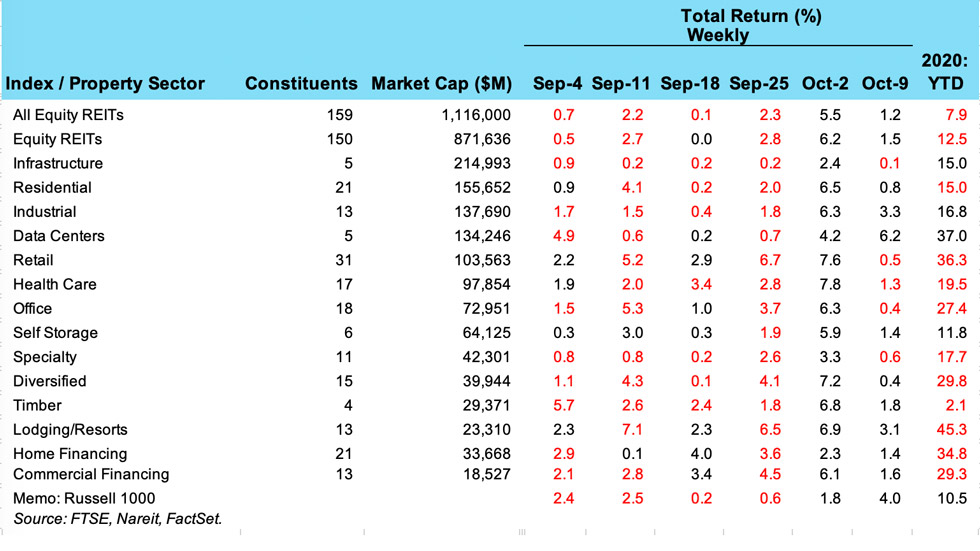 Get Nareit Market Commentary blog posts delivered straight to your inbox.
Subscribe