The movement towards more sustainable practices continues with commercial real estate, and REITs are helping lead the charge. Over the last decade, Environmental, Social and Governance (ESG) issues and sustainability have received increased attention from both the public and investors of commercial real estate.
Many REITs are industry leaders in implementing sustainability strategies, disclosing their operational impact and efforts through various means, such as their websites and annual sustainability reports. A number of REITs also have in-house staff members fully dedicated to sustainability within the organization and its portfolios. NAREIT has completed a review of publicly available sustainability information, and our findings indicate that larger REITs are more robust in reporting their ESG performance compared to smaller REITs.
For example, among REITs with a market cap of greater than $10 billion, 63 percent produced an annual sustainability report. Smaller REITs, in contrast, were much less likely to do so; of REITs with a market cap between $5 billion and $10 billion, only 15 percent produced a yearly sustainability report (see chart below). We believe that this is a result of the time consuming nature of reporting. Smaller cap REITs may have more limited resources to dedicate a significant amount of time to implementing sustainability initiatives and also collecting data to report these efforts through third party frameworks.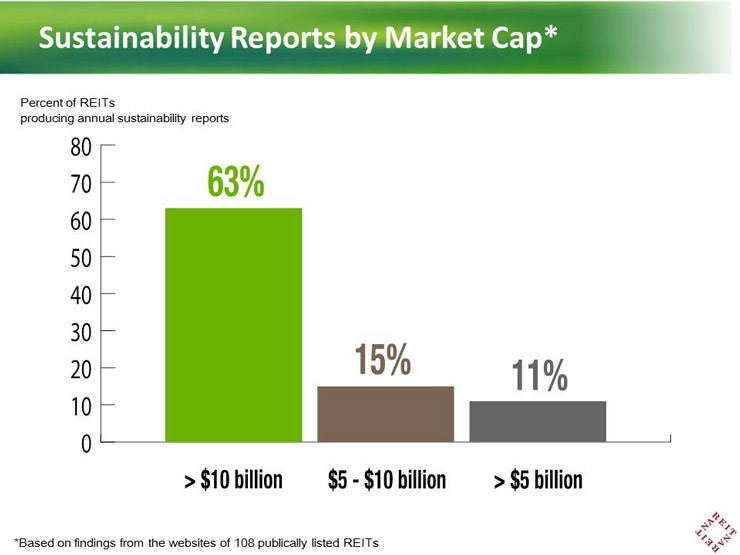 REITs cover a variety of measures in their sustainability reporting; chart 2 has a partial list of commonly reported sustainability metrics. For example, many REITs report the numbers of properties owned that are LEED or Energy Star certified, as well as their portfolio-wide goals for reducing carbon emissions, waste, water and energy use on a year-over-year basis. We also found that, although not all REITs opt to complete an annual sustainability report, the majority of NAREIT members are implementing sustainability initiatives at various levels and reporting these efforts on their public websites.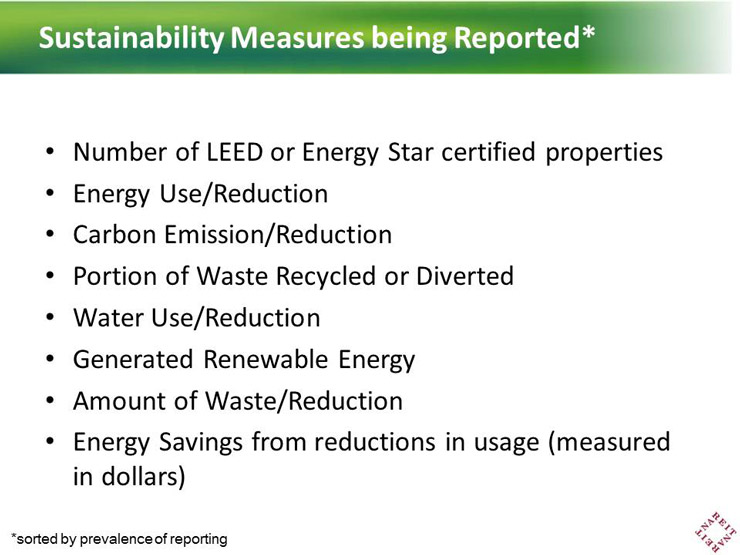 We believe disclosing ESG performance is becoming more important because investor interest in sustainability and ESG performance is increasing. Indeed, there are several recent studies showing improved operational bottom lines as a result of reduced resource consumption and increased tenant satisfaction resulting in higher valuations for properties.
At NAREIT, we are doing our part to support these initiatives and provide a platform for our members to share their best practices and identify industry wide ESG challenges and opportunities. Since 2011, NAREIT has organized an annual ESG-focused workshop, the Leader in the Light Working Forum, which takes place in January. NAREIT has also sponsored the Leader in the Light Awards since 2005 to recognize companies with superior sustainability practices. See our sustainability page for more information on the REIT industry's efforts in this area.
Get Nareit Market Commentary blog posts delivered straight to your inbox.
Subscribe