REITs were little changed last week, with total return on the FTSE Nareit All Equity REITs index down 0.4%. Broad market aggregates, including the S&P 500 and Russell 1000, edged lower by a similar amount.
Across the various REIT sectors, there were seven property sectors with gains for the week, led by lodging/resorts with a total return of 7.6%. There were five property sectors with declines, including data centers and infrastructure, which had total returns of negative 4.0% and negative 3.1%, respectively. Mortgage REIT sectors were mixed. Home financing mREITs had a positive total return of 1.6% last week while commercial financing mREITs posted a 0.7% decline.
Total returns year-to-date on the All Equity REITs index were negative 10.8% through Oct. 23. The declines last week in the data center and infrastructure sectors trim just a bit of the strong returns they had delivered in prior weeks and months, and these sectors have YTD returns of 29.9% and 10.6%, respectively. Data centers and cell towers (which make up the bulk of assets in the Infrastructure REIT sector) help support the digital economy and have seen a surge in demand during the pandemic, along with the Industrial sector, which has a total return of 13.0% so far this year.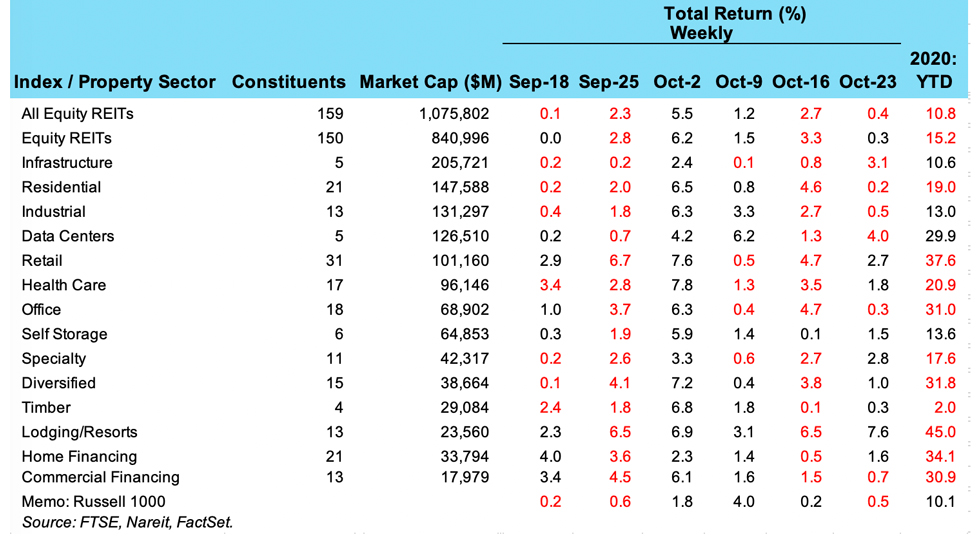 Get Nareit Market Commentary blog posts delivered straight to your inbox.
Subscribe