Nareit's annual update of REIT property counts and estimated gross asset values by state and property sector is now available on the revamped REITs Across America website. At the end of 2018, domestic REITs owned 520,780 properties and 16.7 million acres of timberland across the U.S. A map of REIT properties is shown in Figure 1.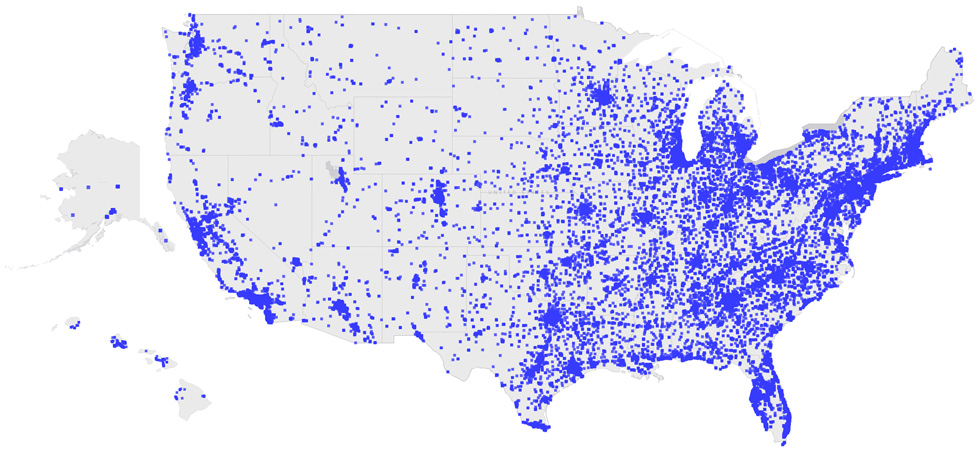 Looking back at three years of data in Table 2 [1], REITs have updated their portfolios of properties each year reflecting capital allocation decisions of where and what to buy and sell. The relative slow growth in the number of properties also reflects the slower pace of net acquisitions over this time period as previously reported in Nareit's T-Tracker®. [2] With net acquisitions rising in 2019, expect to see more property growth in next year's property count.
Lodging experienced the largest percentage growth in property counts at 24%.
The retail portfolio mix of properties has changed over the years:

Shopping center and mall property counts have both declined by 7% and 14% respectively;
Single tenant store and restaurant property counts have increased by 16% and 17% respectively.

E-commerce related properties like warehouses in the industrial sector and data centers had strong growth of 9% and 11% respectively.
Office properties have been in a contractionary period from 2016 to 2018:

Office properties are down 12%;
Mixed use properties are down 3%.

Residential properties are down 8%:

The biggest percentage loss in property counts is in student housing with a decline of 23%;
Multifamily dropped 173 properties or 7%;
The estimated number of units associated with each residential property type mirrored the decline in the number of buildings with student housing units dropping by 27%, multifamily down by 9%, and manufactured home units down by 5%.

Specialty and storage properties increased every year with 8% and 7% three-year growth respectively.
Health care, single family residential, and towers property counts all experienced modest growth.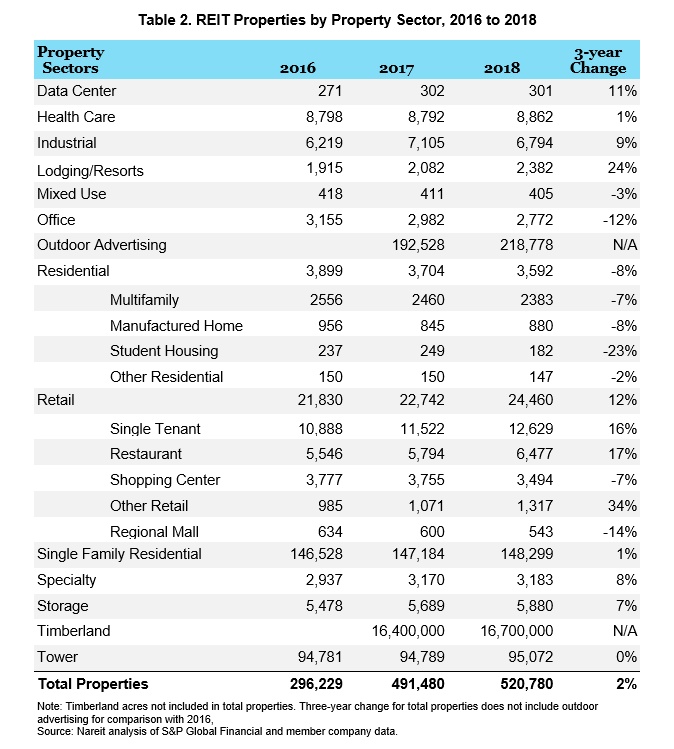 [1] Nareit began collecting cell phone tower data in addition to building data for year-end 2016. The next year, Nareit added property data in outdoor advertising and timberland acres.
[2] See Acquisitions and Dispositions chart on page 16.
Get Nareit Market Commentary blog posts delivered straight to your inbox.
Subscribe