REITs extended their weekly winning streak to three weeks of gains, and are up five of the past six weeks. The 9.0% total return on the FTSE Nareit All Equity REITs index in the week ended June 5th brought the year-to-date total returns back to a single-digit decline.
Last week's returns by the various property sectors continue a recent pattern where those sectors that had been hit hardest in the early weeks of the crisis are making the strongest recovery. Retail, lodging/resorts, diversified, and commercial mREITs all had total returns exceeding 20% last week. Other sectors with double-digit positive returns include specialty, health care, timber, office, and home financing mREITs.
In contrast, data centers and infrastructure, which had been least impacted by the COVID-19 crisis as social distancing boosted utilization of the digital economy, saw a slight ease last week. These sectors, however, retain solid gains for the year of 15.9% and 17.8%, respectively.
REIT executives were cautiously optimistic about the outlook during the first-ever virtual REITweek, the industry's annual investor conference. Conditions varied across property sectors, but a rebound in sales as the economy reopens is expected to boost rent collections and overall business conditions.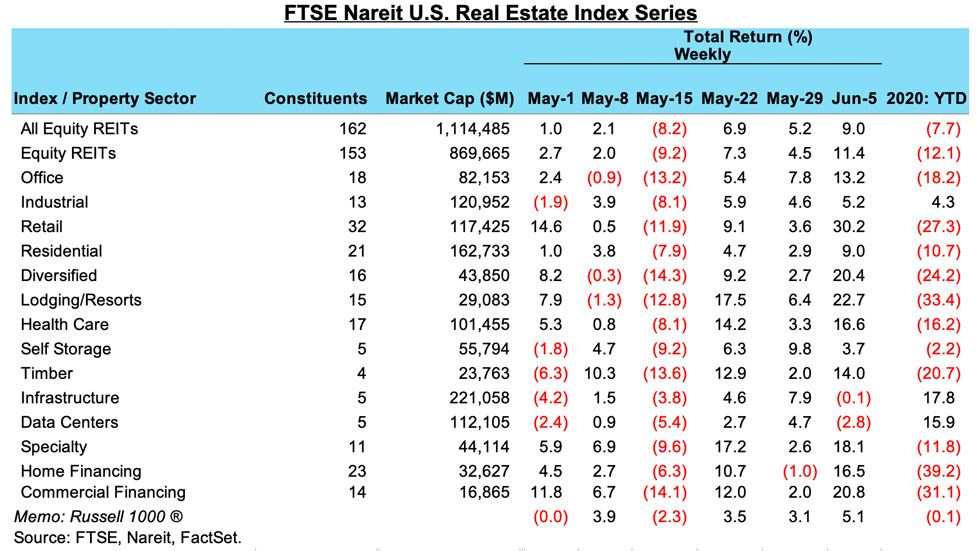 Get Nareit Market Commentary blog posts delivered straight to your inbox.
Subscribe