REIT share prices rose last week, with a total return of 1.2% on the FTSE Nareit All Equity REITs index. This was the second consecutive increase, and there have been overall gains in four of the past six weeks.
Nearly all property sectors posted gains. Lodging/resorts delivered a 9.9% total return, although the sector remains deeply depressed year-to-date. Specialty REITs had a total return of 4.6%, and health care 4.4%, while most other property sectors edged higher. The sectors supporting the digital economy were little changed to down slightly. Infrastructure had a total return of negative 0.4%, while industrial and data center REITs each rounded to zero. These sectors, however, are still leading the league in 2020, with total returns year-to-date ranging from 15.0% for industrial and 17.5% for infrastructure, to 33.8% for data centers.
mREITs also had positive returns last week, with total returns of 0.4% and 5.1%, respectively, for home financing and commercial financing mREITs. Last week's results were the second straight gain for commercial financing and fifth straight gain for home financing mREITs.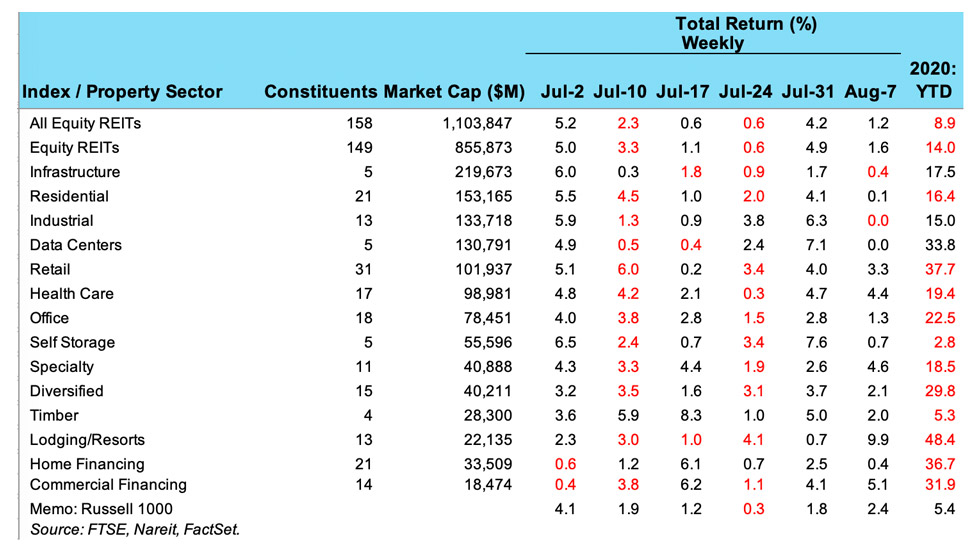 Get Nareit Market Commentary blog posts delivered straight to your inbox.
Subscribe