REIT share prices rose last week with the FTSE Nareit All Equity REITs index posting a positive return of 4.2%. Stock returns were up on balance for the month of July, trimming the decline year-to-date to 10.0%.
Gains last week were broad-based with every property sector higher. The REIT sectors supporting the digital economy continue to shine, with data center and industrial REITs posting total returns of 7.1% and 6.3%, while infrastructure had a 1.7% return. These sectors have recorded impressive total returns in 2020 of 15.0% to 33.7%.
Other sectors moved up by more modest amounts last week. Lodging/resorts had a total return of 0.7% following three weeks of declines. On the other hand, timber REITs extended their streak of weekly gains to five weeks with a total return of 5.0%, while home financing mREITs registered their fourth increase in a row.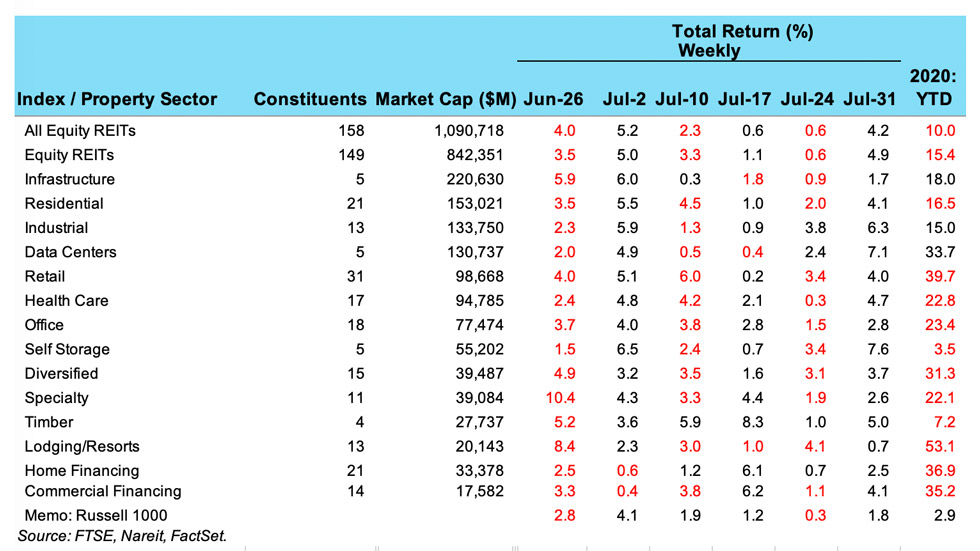 Get Nareit Market Commentary blog posts delivered straight to your inbox.
Subscribe