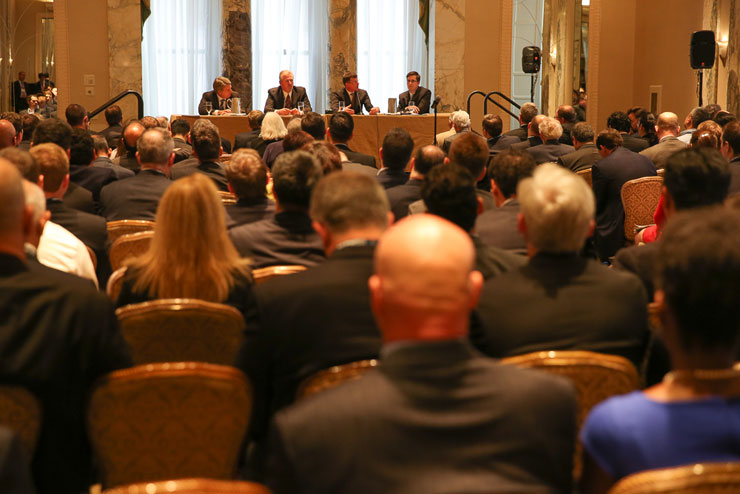 A record number of investors, analysts and media attended REITWeek 2016 in New York to meet with management teams and check the pulse of the industry. Here are several key takeaways from this year's conference:
Operating fundamentals are strong across nearly all property types and geographic markets. Most REITs reported high occupancy, strong same-store NOI, growing demand for space and new supply that was generally restrained. Apartment markets continue to enjoy strong renter demand, especially in coastal markets, although a bulge of deliveries in San Francisco has cooled rents a bit. Office properties find steady tenant demand. The New York office market remains firm ahead of new supply; several REITs with a Manhattan presence were sanguine about the new construction due to the broad-based demand they are facing. Retail reported some weakness in store traffic and retailer bankruptcies, in addition to the broader challenge of E-Commerce. Lodging and resorts weakened as business travel declined with corporate profits, and the strong dollar impacted international travel. Self-storage and data centers enjoy solid secular growth trends.
Transactions markets are healthy and property prices are firm. The number of bidders for commercial properties may be down, but those that remain in the market have a strong appetite and bidding remains competitive. Cap rates are steady and generally a bit more solid after a rocky start to the year. One CEO noted that cap rates are "still very aggressive" but are justified in a "yield-starved environment" where new supply remains in check.
The investor base for the commercial real estate asset class is expanding as GICS adds a new top-line Real Estate sector. This year's conference attracted increased attention from generalist investors wanting to get up to speed on this important asset class ahead of its move to top-line status in the GICS classification system, from its current position within the financial sector. There is a range of estimates of how large an impact the reclassification will have on REITs, and how quickly it will occur. Most observers generally agree, though, that there will be a significant positive impact on the sector in the longer run as investors who are underweight commercial real estate add to their allocations.
Get Nareit Market Commentary blog posts delivered straight to your inbox.
Subscribe