The biggest question for the apartment sector lately has been whether the bulging pipeline of new supply would swamp the pent-up demand that accumulated during the Great Recession. Indeed, rental demand flagged during the winter as construction reached new highs, feeding worries about the outlook.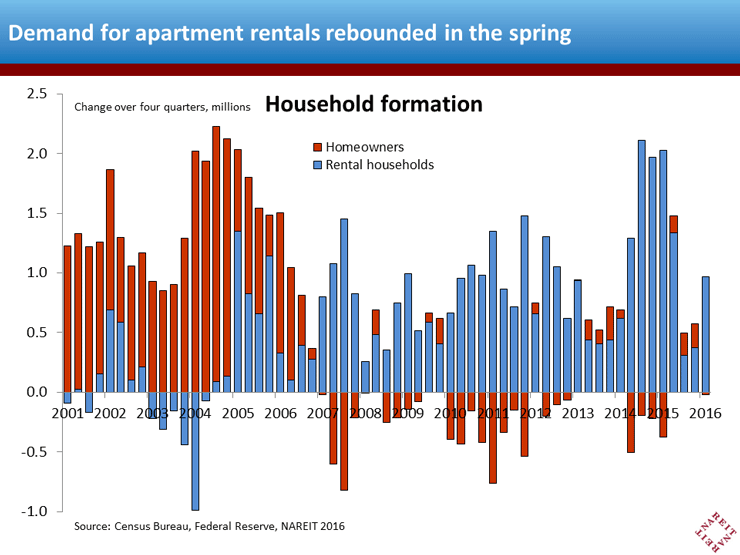 A surge in demand in the spring, though, should put those fears to rest, at least for the time being. The total number of rental households jumped to 43.9 million in the second quarter, an increase of 1.0 million over one year ago (above chart, blue bars). Moreover, the homeownership rate declined further, to a record low (below chart). With many Gen X and Millennial households struggling to save for a down payment on a home, trying to repair damaged credit ratings, or wary of the financial risks of home ownership, it's likely that apartment rental will remain the preferred option for millions in the years ahead.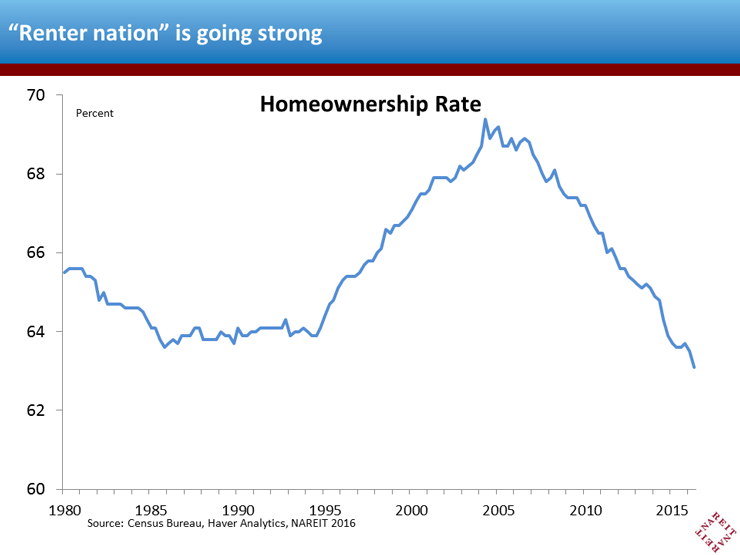 But what about the steady rise in new supply? Shouldn't long-term investors in real estate be worried that it's only a matter of time before the market becomes saturated? Eventually, perhaps…  but a bit longer perspective shows that developers are still far from building the number of apartments that a growing population requires. New construction, which averaged roughly 300,000 units a year from 1995-2007, fell well below 100,000 during the Great Recession. The total shortfall of apartment construction from its longer-term trend was over 600,000 units.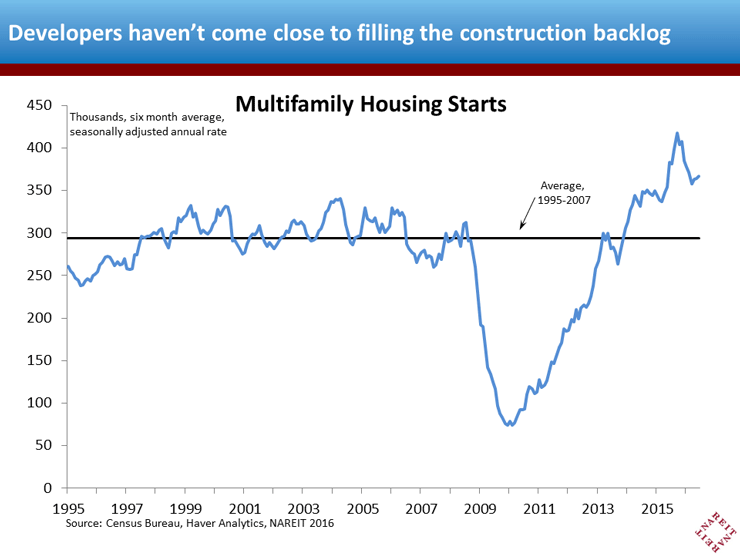 The recent rise in starts has barely begun to meet that backlog. So far, it has filled less than one-quarter of the shortfall. At current rates of construction, it would take more than five years to bring total new supply back in line with historical trends. There are pockets of worry, as the construction of luxury apartments in some cities has outpaced demand, causing some weakness in rents in high-end units; most other markets, however, remain firm.
The favorable overall demand-supply balance suggests a solid foundation for the multifamily REIT sector, with low vacancy rates, rising rents and strong price appreciation likely to continue well into the future.
Get Nareit Market Commentary blog posts delivered straight to your inbox.
Subscribe