Maybe the end of winter weather will bring with it a thaw in the housing market. The latest news gives some hope, at least with respect to home sales and house prices. New home sales increased 7.8 percent in February, to an annual rate of 539,000, the strongest sales pace since February 2008.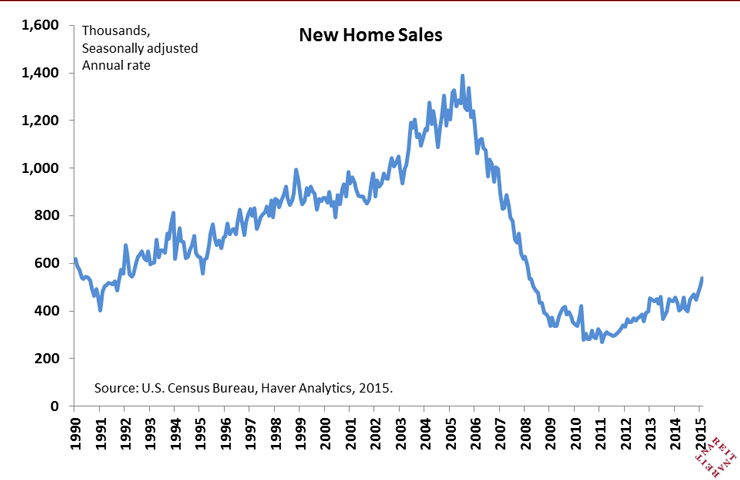 The housing market appears to have worked off most of the excesses from the boom. Inventories of new homes for sale remain low, and the months' supply of new homes (that is, how long it would take to sell the entire inventory of new homes at the current sales pace) dipped below 5 months. This is within the range of typical supply in a healthy market and, indeed, suggests that housing starts will have to pick up if sales rise further.
The market hasn't fully recovered yet, though. Many potential buyers are reluctant to commit, or are having difficulty accumulating a down payment or obtaining financing. As excess inventories have been worked off, however, and the more rapid pace of job growth helps bolster demand, prices of existing homes have continued to recover.
The latest reading on house prices from the FHFA (which is based on homes financed with mortgages funded or guaranteed by Fannie Mae or Freddie Mac) shows prices in January 2015 were up 5.1 percent from a year earlier. Prices have risen 21.6 percent from their trough in 2011, but still have a bit more to go to reach the prior peak.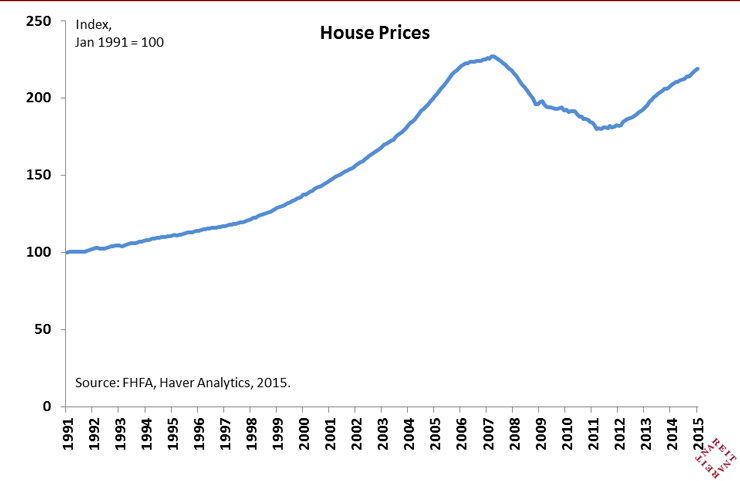 Get Nareit Market Commentary blog posts delivered straight to your inbox.
Subscribe