What happens if "two steps forward, one step back" turns into "two steps forward, two steps back"?
Monthly jobs figures have been choppy over the past few years. Quite often there have been a couple of months of solid gains, followed by a weak month or two. Each time, however, the soft spot was short-lived and employment growth soon turned up again.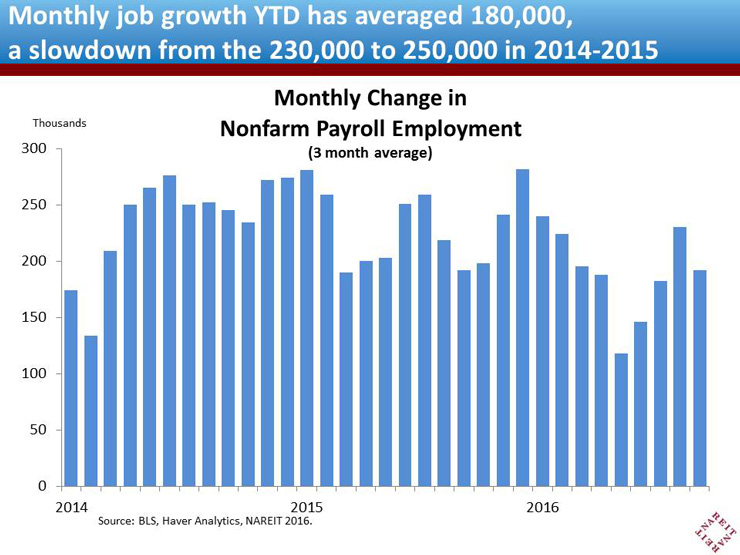 Job growth in September disappointed, with an increase in nonfarm payrolls of 156,000, for back-to-back months of slower growth after a sluggish August. There have been some bright spots this year, with figures north of 250,000 in June and July. Job growth has fallen short of 200,000 in six of the past nine months, however, and average monthly increases in employment so far in 2016 has averaged 180,000, well below the 230,000 to 250,000 monthly average the prior two years.
Our outlook for continued firming in commercial real estate markets and further improvements in operating performance by REITs has been predicated on solid underpinnings of the macroeconomy, including monthly job growth of 200,000 or above. The series of recent soft numbers on the jobs front are raising the downside risks to this forecast.
Multifamily housing markets are particularly exposed to trends in employment and incomes, as there has been a surge of new construction across the country. Demand for apartment rentals had kept pace through the middle of the year, buoyed by job and wage gains. Apartment markets have softened a bit since mid-year, however, and downside risks to employment and incomes could limit the ability of Millennials and others to sign a lease on a place of their own.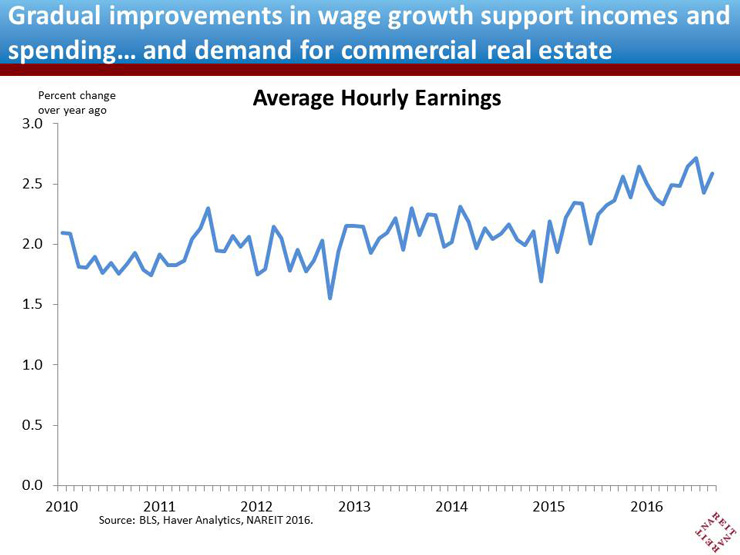 There are still several positives to the outlook. Monthly employment data are volatile and subject to revision, so we may yet see improvements in the coming months. Wage growth has edged upward this year, boosting incomes even as job growth moderates. And initial claims for unemployment insurance, which are a reliable measure of future job trends, are at their lowest level since 1973.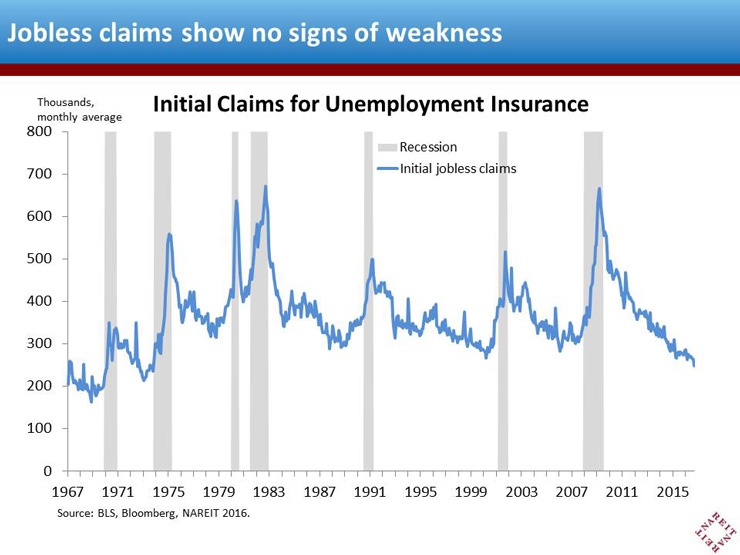 The labor market and the broader economy appear to be stuck in another patch of middling growth, with neither boom nor bust on the horizon. That implies a stable outlook for REITs and commercial real estate as well. Future job growth, however, bears watching in the months ahead.
Get Nareit Market Commentary blog posts delivered straight to your inbox.
Subscribe