Signs of the impact on the economy of social distancing to slow the spread of covid-19 are showing up everywhere, from store closures and conferences that are cancelled, to millions filing for unemployment insurance. The Census Bureau reported on April 24 that orders for durable goods, a key component of business activity, plunged 14.4% in March from the month before.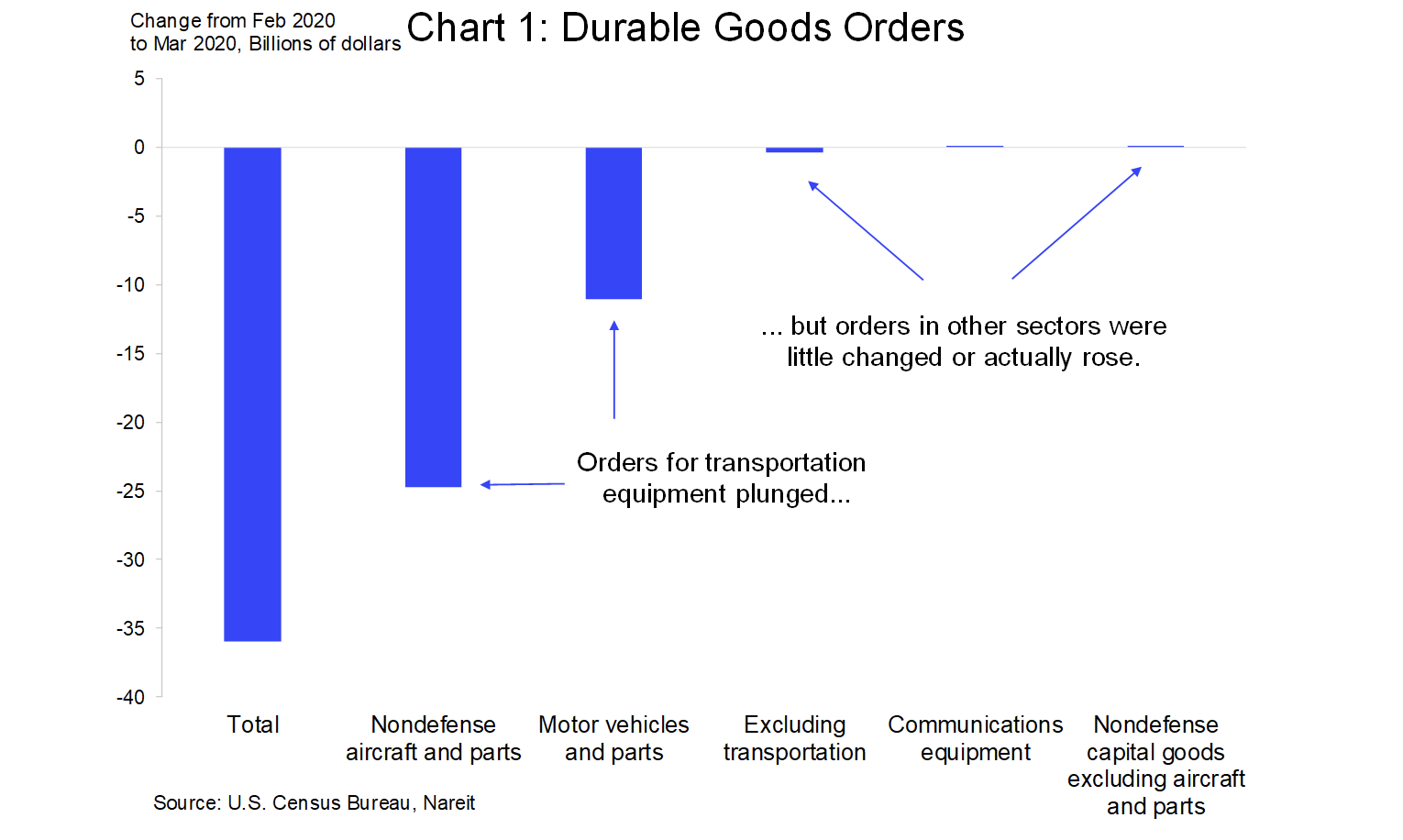 It is important, however, to distinguish between declines that are focused narrowly on those sectors feeling the direct impact of closures versus damage that may be spreading more broadly throughout the economy. The recent durable goods report is a good illustration of this difference. Virtually all of the $36.0 billion decline in new orders was in transportation equipment, specifically nondefense aircraft and parts as well as motor vehicles. Orders excluding transportation equipment edged slightly lower, declining $0.4 billion. Orders for communications equipment, which includes the servers and switches for internet communications, rose 3.7% and orders for core nondefense capital goods—which are used for business fixed investment in productive capacity—rose slightly with a 0.1% increase.
REITs and commercial real estate house the activity that takes place in the U.S. economy. The magnitude of the current economic crisis makes clear that all corners of the economy will feel some impact, including the inability of some tenants to pay rent for their commercial or multifamily properties. The modest changes in durable goods orders in sectors outside of transportation suggests that through March at least (April may be another story), there have been limited spillovers into other business sectors.
We are not expecting a "V" shaped recovery because some effects of the virus are likely to remain for quite some time. This news on durable goods orders, though, is consistent with underlying business fundamentals remaining intact for now despite the shutdown. This may help make the eventual recovery in economic activity, commercial real estate and REITs more robust.
Get Nareit Market Commentary blog posts delivered straight to your inbox.
Subscribe