Real estate values and total returns retreated slightly in May, with assets in the West region of the U.S. outperforming holdings in other parts of the country.
Unlevered real estate values declined 0.74% during the month on average according to the FTSE NAREIT PureProperty® Index Series, which measures property-level returns on an unlevered basis as well as equity-level returns on real estate investments held through the balance sheet of the equity REITs that own them.  Dividends distributed to shareholders increased the average total return to -0.50% on an aggregate, unlevered basis.  The properties covered by the PureProperty index series include U.S. holdings of stock exchange-traded U.S. equity REITs in the apartment, health care, hotel, industrial, office, and retail sectors.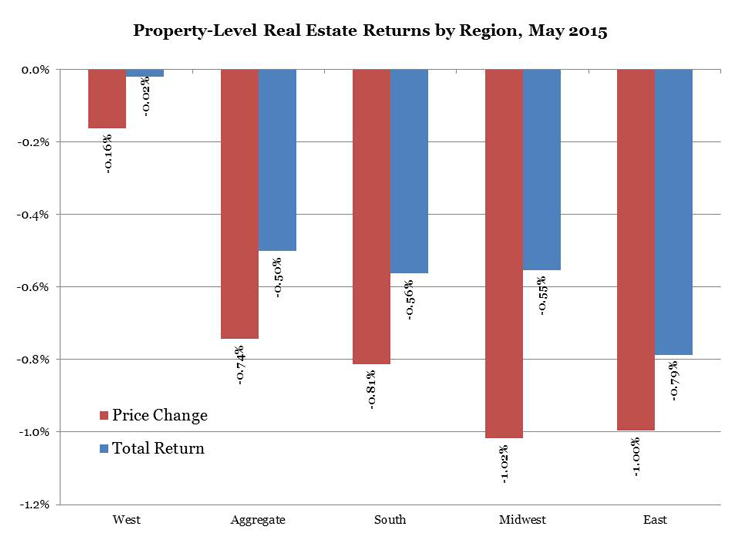 The West region saw better performance than other parts of the U.S., with REIT holdings producing property-level total returns that remained largely unchanged at -0.02%.  Real estate total returns in the East region trailed at -0.79% on average, while the Midwest and South also performed slightly worse than the national average with total returns of -0.55% and -0.56% respectively.  The PureProperty index series measures regional performance using data on the geographic distribution of each constituent REIT's property holdings.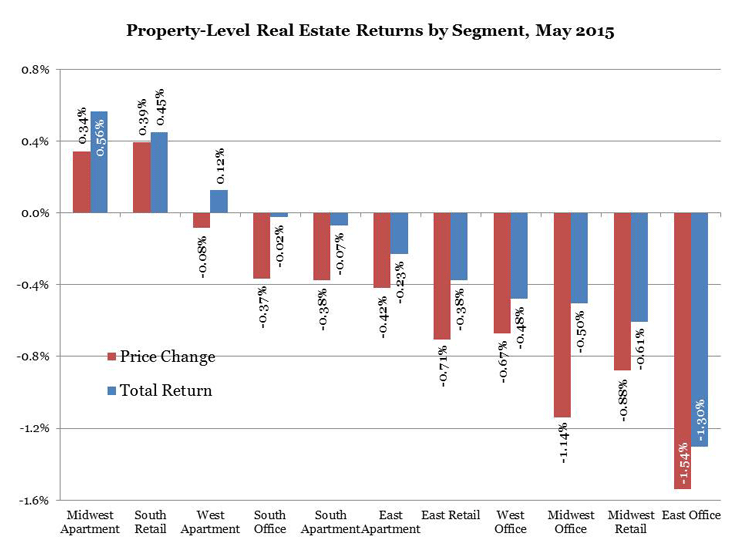 The best-performing individual segment of the real estate market during May, as measured by the PureProperty index series, was Apartment properties located in the Midwest region, which increased in value by +0.34% and produced property-level total returns of +0.56%.  For the year 2015 through the end of May, the Midwest Region Apartment segment produced price appreciation of +4.35% with total returns of +6.02%.  Other top-performing segments of the real estate market during May included West Region Apartments (property values down slightly at -0.08% but total return up at +0.12%) and South Region Retail (property values +0.39%, total returns +0.45%).
Get Nareit Market Commentary blog posts delivered straight to your inbox.
Subscribe