The multifamily REIT sector has been on a hot streak the past few years, as record-high occupancy rates and solid rent growth have lifted net operating income and property valuations to new highs. The strong tailwinds for this sector stem in large part from the significant pent-up demand, or "shadow households", currently doubled-up with roommates or parents:
The rate of household formation fell during the Great Recession to less than half the pre-crisis trend, causing a backlog of those who might otherwise lease an apartment or buy a home. This pent-up demand swelled to an estimated 4 million (the size of the pent-up demand can be seen in the first chart as the gap between the solid blue line, household formation, and the dashed line with the average rate from 1990-2007);
Household formation has not risen back above the trend pace, however, indicating that the pent-up demand has not been reduced—that is, there are still millions of people currently doubled-up, despite the drop in the unemployment rate and a more robust economy, who under more typical circumstances might have their own living space;
This raises two important questions: What's keeping these people in shared quarters? And, when might they be more likely to move to an apartment or home of their own?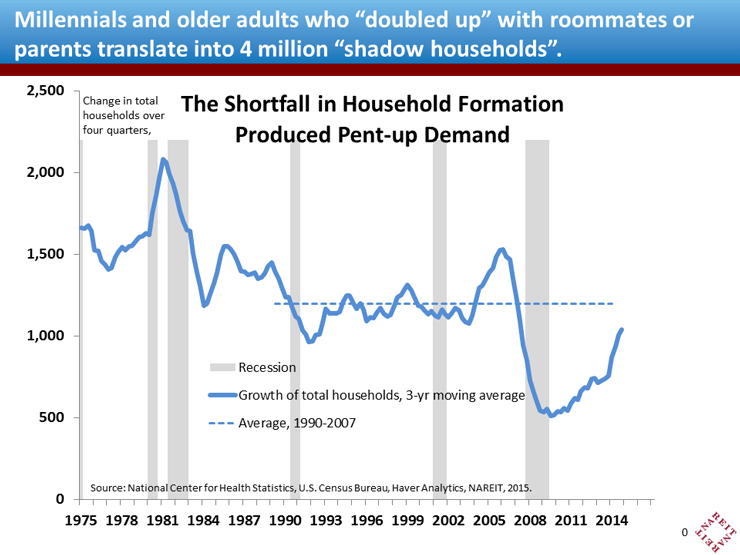 One possible clue to the answers to both of these questions can be found in the trends in birth rates during and since the Great Recession. Birth rates plunged in 2008 and 2009, as financial uncertainty caused many people to delay starting a family or having an additional child. The birth rate rose in 2014, however, the first increase since 2007. While births continued to decline among women age 20-24 and 25-29, they moved higher for those age 30-34 and 35-39… that is, those who may not feel they can postpone much longer starting a family.
 An analysis of data over the past 30 years shows birth rates often fall during economic recessions and rebound during recoveries, and that household formation roughly follows these swings (see second chart). This makes sense—it's hard to support a family if one is unemployed, so many will delay family formation when unemployment is higher.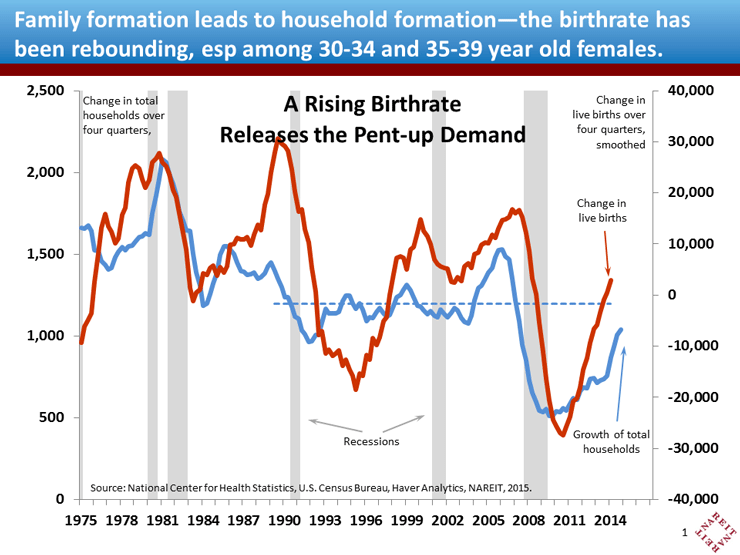 Also, it's reasonable for a single person or childless couple to share living space, but an entirely different matter when you are caring for one or more children. Our econometric analysis of these trends indicates that the birth rate and household formation do not move in lock-step with each other, but the relationship between the two is reasonably robust over history.
A continued uptrend in birth rates could spur even more people to move out of shared spaces and into their own home or apartment. This represents an additional source of demand for rental apartments that may well keep occupancy rates near their current highs, even as newly constructed apartments come on the market.
And that's another very solid fundamental force for the multifamily REIT market.
Get Nareit Market Commentary blog posts delivered straight to your inbox.
Subscribe