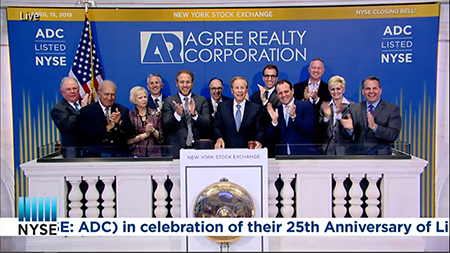 Agree Realty Corp. (NYSE: ADC) rang the closing bell at the New York Stock Exchange (NYSE) on April 15, in celebration of the 25th anniversary of its initial public offering (IPO).
"During the past 25 years, we have delivered compounded average annual total shareholder returns of 13.5 percent to our loyal shareholders while transforming our portfolio from 17 community shopping centers to nearly 700 retail net lease assets today," said President and CEO Joey Agree.
Agree Realty is primarily focused on the acquisition and development of properties net leased to industry-leading retail tenants. It currently owns and operates a portfolio of 694 properties, located in 46 states.
(contact: Sarah Borchersen-Keto at sborchersen-keto@nareit.com)
Get Nareit Developments blog posts delivered straight to your inbox.
Subscribe