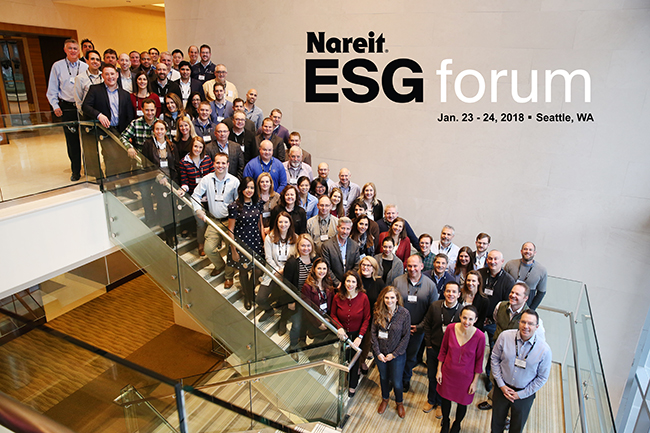 Nareit's 2018 ESG Forum was held in Seattle from Jan. 23 – 24, offering attendees a collaborative workshop for real estate ESG professionals to advance the sustainability conversation and to share thoughts on best practices with their peers.
Ninety attendees, including 31 first-timers, participated in discussions on the most pressing issues currently facing the real estate industry, such as investors' perspectives on ESG issues; third-party ESG evaluations of companies; social and governance issues and risk management; climate events; and new trends.
This year's program also featured a track tailored Nareit's ESG JumpStart Program, an initiative with a goal of providing guidance to Nareit members and real estate organizations that are either just starting sustainability programs or looking for further growth in their existing programs.
Forest City Realty Trust's @JillZieglerCR reviewed best practices for integrating #ESG into the supply chain at Nareit's #ESGForum pic.twitter.com/01nU2Up9bh

— Nareit (@REITs_Nareit) January 24, 2018
Mark Delisi of @AvalonBay shares how to set long-term #ESG goals during the JumpStart track at Nareit's #ESGForum pic.twitter.com/YTfSIgSlDf

— Nareit (@REITs_Nareit) January 24, 2018
This year's #ESGForum attendees come from REITs representing $555B in market cap pic.twitter.com/7IPIRbUlyt

— Nareit (@REITs_Nareit) January 24, 2018
Taking a deep dive into MSCI ESG Index methodologies with Alexandria Real Estate's @arifrankel #ESGForum pic.twitter.com/dIeqZGRyco

— Nareit (@REITs_Nareit) January 24, 2018
Investors share their perspectives on the importance of ESG performance for REITs at Nareit's #ESGForum pic.twitter.com/VNRzk2bkw9

— Nareit (@REITs_Nareit) January 23, 2018
The Real Estate Sustainability Council (RESC) met this morning at Nareit's #ESGForum in Seattle pic.twitter.com/AuSAahOMmd

— Nareit (@REITs_Nareit) January 23, 2018
Nareit #ESGForum attendees had the opportunity to get a behind the scenes tour at the Bullitt Center, one of the greenest buildings in the world pic.twitter.com/EAeXLAXGlv

— Nareit (@REITs_Nareit) January 23, 2018
Kevin Hagen leads the inaugural JumpStart Workshop at Nareit's #ESGForum in Seattle @IronMountain pic.twitter.com/7tIrGmI8At

— Nareit (@REITs_Nareit) January 22, 2018
(Contact: Fulya Kocak at fkocak@nareit.com)