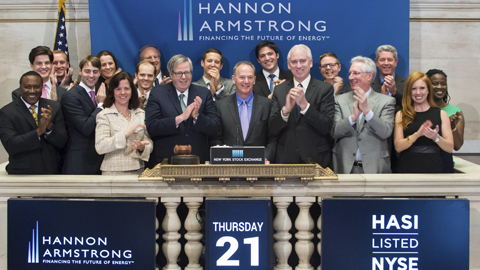 Hannon Armstrong Sustainable Infrastructure Capital (NYSE: HASI) rang the New York Stock Exchange closing bell on April 21 to celebrate the third anniversary of the company's initial public offering (IPO), Earth Day and the signing of the Paris Climate Agreement.
Hannon Armstrong makes debt and equity investments in sustainable infrastructure projects. As of the end of 2015, the company had approximately $1.35 billion invested in more than 105 different projects.
"We went public because we saw financing as a critical component of addressing climate change as well as a large market opportunity.  Our total return in excess of 100 percent since the IPO confirms both the market opportunity and investors' support for our strategy," said Jeffrey Eckel, president and CEO of Hannon Armstrong.
(Contact: Sarah Borchersen-Keto @ sborchersen-keto@nareit.com)
Get Nareit Developments blog posts delivered straight to your inbox.
Subscribe