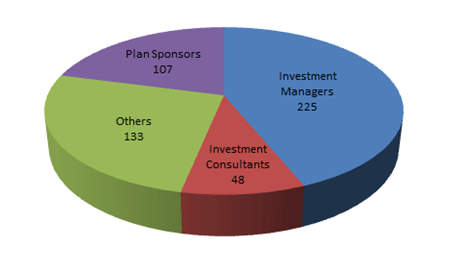 During 2015, NAREIT's Investor Outreach (IO) team conducted 513 meetings with many of the largest and most influential investment organizations within the institutional investment marketplace. Collectively, these entities represent close to $43 trillion in assets under management or advisement.
The number of meetings was up 14 percent from 2014, when the IO team conducted 450 meetings representing $39 trillion in assets.

The 513 meetings included organizations across all targeted investment cohorts, including:
*107 with prominent domestic and international pension, retirement, and sovereign wealth fund plan sponsors representing close to $4 trillion in assets
*48 with investment consultants with assets under advisement of more than $10 trillion
*225 with investment managers representing close to $29 trillion of assets under management and sponsoring global and domestic products for the institutional and retail investor market
Another 133 meetings were held with other organizations and associations active in investment management and the retirement industry.

Total assets of NAREIT's primary target market, the $22.6 trillion domestic market for retirement savings and investment, are fairly evenly distributed across defined benefit plans. These include endowments and foundations, defined contribution plans and individual retirement plans, which consist predominantly of individual retirement accounts (IRAs) such as rollover, traditional and Roth IRAs.
By providing credible research and a relationship-oriented approach, NAREIT continues to make progress communicating the investment benefits of REITs to the pension, sovereign wealth fund and endowment markets.
Meetings with investment managers and investment consultants within the $6.8 trillion defined contribution (DC) market continued to focus research NAREIT sponsored with Wilshire Associates on the role of U.S. REITs and global listed real estate securities within target date funds, the most rapidly growing investment products in most 401(k) accounts and other tax-advantaged savings plans.
In the $7.6 trillion IRA market, NAREIT continues to implement a comprehensive outreach program targeted at financial intermediaries, including financial advisors, who have a strong influence over the investment allocation decisions made on a significant portion of IRA assets.
The IO team was also active on the institutional investment conference circuit in 2015, attending 34 events. NAREIT participated in 21 as a speaker, board member or sponsor.

(Contact: Kurt Walten at kwalten@nareit.com)
Get Nareit Developments blog posts delivered straight to your inbox.
Subscribe