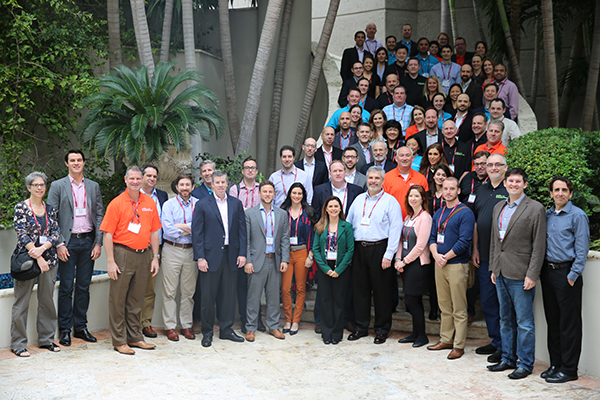 More than 70 attendees gathered in Miami from Jan. 26-27 for the 2016 Leader in the Light Working Forum.
The 2016 Leader in the Light Working Forum held in January featured representation from 40 NAREIT Corporate Members.
More than 70 total attendees gathered in Miami for the annual conference. In addition to REITs, investors, analysts and sustainability experts were represented at the meeting.
Sustainability Toolkit
The program included a presentation from global consulting firm AccountAbility on leading sustainability practices at REITs. AccountAbility CEO Sunny Miser led a follow-up discussion from the October 2015 meeting organized by NAREIT to discuss REITs' sustainability programs.
Working forum attendees received a working draft of a "toolkit" that provided information from AccountAbility's study of REITs' sustainability guidelines. The toolkit offered recommendations for REITs based on AccountAbility's analysis and fact-finding project, and it included cases studies documenting successful sustainability initiatives undertaken by REITs in areas such as stakeholder engagement, organizational structure and benchmarking. Miser and his team from AccountAbility also ran a session on how companies could apply the toolkit to their own operations.
GRESB Update; Sustainability Reporting
Attendees also took in presentations on trends in regulation, reporting and data tracking.
Chris Pyke and Dan Winters of GRESB gave an update on trends and movements in the capital markets tied to GRESB scoring. Additionally, they offered an overview of Infrastructure & Debt surveys/benchmarks. Attendees also provided them with feedback on the GRESB Survey.
David Stanford, executive managing director of RealFoundations, moderated a panel on REIT investors' perspectives on sustainability. Panelists included Hans Op 't Veld, head of listed real estate at PGGM, and John Robertson, global head of real estate and infrastructure securities with Deutsche Asset Management.
A session on data collection focused on trends in practices and implications for the industry. The session was led by Lenora Suki and Morgan Tarrant of Bloomberg and Doug Morrow of Sustainalytics.
Other sessions included a regulatory update from Cliff Majersik, executive director of the Institute for Market Transformation, and a look at proposals from the Sustainability Accounting Standards Board (SASB) with Bryan Esterly, a research associate with SASB, and Todd Fehr, director at RealFoundations.
(Contact: Sheldon Groner at sgroner@nareit.com)
Get Nareit Developments blog posts delivered straight to your inbox.
Subscribe