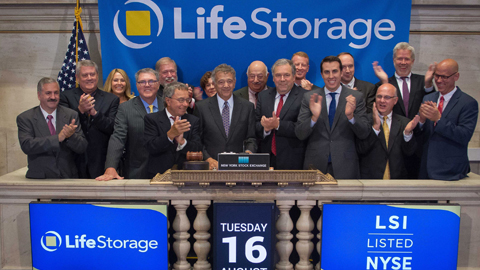 (Photo Credit: NYSE)
Life Storage, Inc. (NYSE:LSI), the self-storage REIT formerly known as Sovran Self Storage (NYSE:SSS), rang the New York Stock Exchange closing bell on Aug. 16 to commemorate the company's recent rebranding and new stock ticker symbol.
"We are honored to have the opportunity to ring the closing bell and mark this momentous occasion in the 34-year history of our company," said Life Storage CEO Dave Rogers. "We are excited for the future of Life Storage and our ongoing commitment to taking care of our customers' life changes," he added.
The NYSE bell ringing follows the company's recent announcement of the change to its brand name from Uncle Bob's Self Storage to Life Storage, and the launch of its redesigned website, www.lifestorage.com.
(Contact: Sarah Borchersen-Keto at sborchersen-keto@nareit.com)
Get Nareit Developments blog posts delivered straight to your inbox.
Subscribe