NAREIT Corporate Members Paramount Group, Inc. (NYSE: PGRE), Boston Properties, Inc. (NYSE: BXP), and Vornado Realty Trust (NYSE: VNO) were among the winners of the 2016 Building Owners and Managers Association of New York (BOMA New York) Pinnacle Awards.
The awards, announced late last month, honor excellence in commercial building management across a range of categories.
Paramount's 900 Third Avenue property was selected as the winner of the inaugural Grand Pinnacle award, which is the prize for achieving the highest score among all categories in the 2016 competition.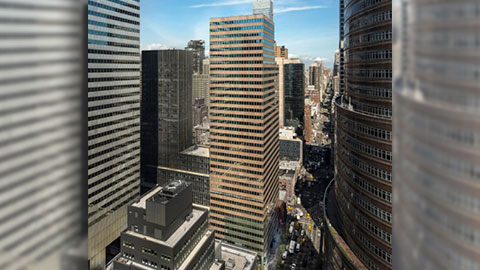 Paramount was chosen for raising the Energy Star score at the LEED Gold certified office building, evaluating new ways to achieve Platinum LEED, implementing new staff mentoring and training programs, and advancing its neighborhood outreach initiatives.
900 Third Avenue also received the Operating Office Building of the Year award for the 500,000 to 1,000,000 square foot category. The Earth award for sustainability achievement was presented to Paramount's 712 Fifth Avenue property. This marks the second consecutive year that a Paramount property has won the Earth award.
"We are honored to be recognized by our peers for our commitment to consistently achieving the highest standards of sustainability, tenant service, community engagement and property management," said Albert Behler, chairman, CEO and president of Paramount.
The New Construction award was presented to Boston Properties' 250 West 55th property, while Vornado's 330 West 34th Street property won the Renovated Building award.
(Contact: Sarah Borchersen-Keto at sborchersen-keto@nareit.com)
Get Nareit Developments blog posts delivered straight to your inbox.
Subscribe