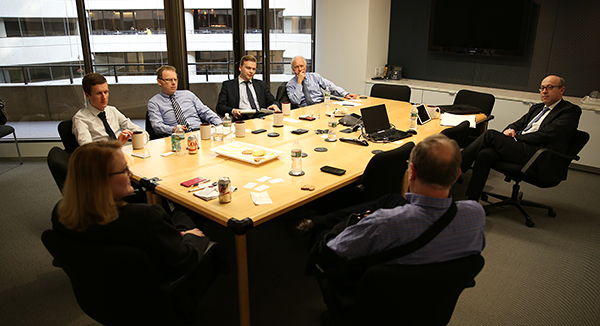 Feb. 22: EPRA representatives meet with members of NAREIT's Policy & Politics team.
Representatives of the European Public Real Estate Association (EPRA) visited Washington on Feb. 22 to share information and ideas in meetings with members of NAREIT's staff.
Topics covered during the meetings included communications strategies and initiatives, investor outreach and education, and developments in the areas of public policy and regulation.
Representing EPRA were Philip Charls, CEO; Tobias Steinmann, director of public affairs; Dominic Turnbull, events and digital media director; and Graeme Gibbs, policy officer for E.U. affairs.
EPRA's mission is to promote, develop and represent the European public real estate sector. EPRA and NAREIT partner in the Real Estate Equity Securitization Alliance (REESA) along with the Asia Pacific Real Estate Association (APREA), the Association for Real Estate Securitization (ARES), the British Property Federation (BPF), the Property Council of Australia (PCA) and the Real Property Association of Canada (Realpac).
(Contact: Mike Grupe at mgrupe@nareit.com)
Get Nareit Developments blog posts delivered straight to your inbox.
Subscribe