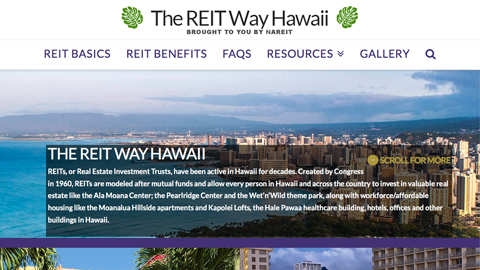 NAREIT has launched a new website to inform Hawaii residents of the many benefits that REITs bring to their state.
The website, www.thereitwayhawaii.com, provides residents with a basic knowledge of how REITs and the REIT industry operate, highlights the variety of REITs that are active in their state, and offers a range of additional informational resources.
Among the many facts available on the website is that Hawaii boasts 80 REIT-owned properties with investments worth more than an estimated $11.3 billion. REIT-owned properties in Hawaii include needed workforce housing; Wet 'N' Wild Hawaii, one of Oahu's top 10 most visited family attractions; and the Ala Moana Center, one of the most successful shopping centers in the world.
In both 2014 and 2015, the legislature in Hawaii considered and rejected legislation that would have repealed a REIT's dividends paid deduction.
(Contact: Dara Bernstein at dbernstein@nareit.com)
Get Nareit Developments blog posts delivered straight to your inbox.
Subscribe